Street food tours in Vietnam are listed among the top highlights for visitors to Ho Chi Minh City and Hanoi. I was sorely tempted to book one, as all the major companies got rave reviews and shuttled their guests around on motorbikes. At $50-70 a pop though, we made the prudent, though slightly disappointing decision to try to explore the food scene on our own with the Internet as our guide. Could some travel blog research, a good map, and a lot of patience sufficiently reward our labors?
The Method
When we did street food in China, Thailand, Malaysia, Cambodia, and Singapore, all the food was clustered in one quarter of town or on streets with lots of vendors, so it was simple to find and order food. In India, we basically did all our "street food" at one restaurant Akshaya took us to plus a couple places recommended by our homestay family; the rest of the time we avoided street food in order not to get sick. In Nepal, the interesting street food was limited to momos and king curd so our guidebook was sufficient.
Vietnam was yet again a different method. Most street food there isn't street food in the strictest sense of portable carts. Instead, it's cheap and often informal restaurants scattered around the city. Not only does this require a map and a sturdy pair of shoes, but also a readiness for disappointment, as a number of places we hiked to were closed for Tet (Vietnamese New Year). Sometimes the food is cooked in front of you so it's easy to point and order, other times you have to know what you are looking for so you can identify your dish on an all-Vietnamese menu or sign board.
What we did was read travel blogs (thanks Legal Nomads!) and our guidebook to come up with a list of dishes we wanted to try and where they were available in the city. This led to a successful meal about 50% of the time, and the other 50% came from seeing a name from our list displayed at a random street restaurant and wandering in without a recommendation. We really had to work for it, but on most days our efforts paid off.
Our dishes are rated in scooters. Though scooters are a popular mode of transportation throughout Asia, it's only in Vietnam that the streets are literally teeming with these vehicles at all hours of the day.
Bun Thit Nuong
But thit nuong was among my favorite dishes. It's a layered bowl: on the bottom is lettuce and herbs, then a pile of rice noodles, then grilled pork kebabs, then a fried spring roll (not pictured), and final a hefty sprinkle of peanuts and green onions. Like many Vietnamese dishes, it get's even more interactive when you mix your own condiment of pickled carrot and radish slaw, ground chilis, rice vinegar, and sweet fish sauce to pour on top. The final dish is sweet, salty, crunchy, chewy, fresh, and unctious all at the same time. 5 scooters.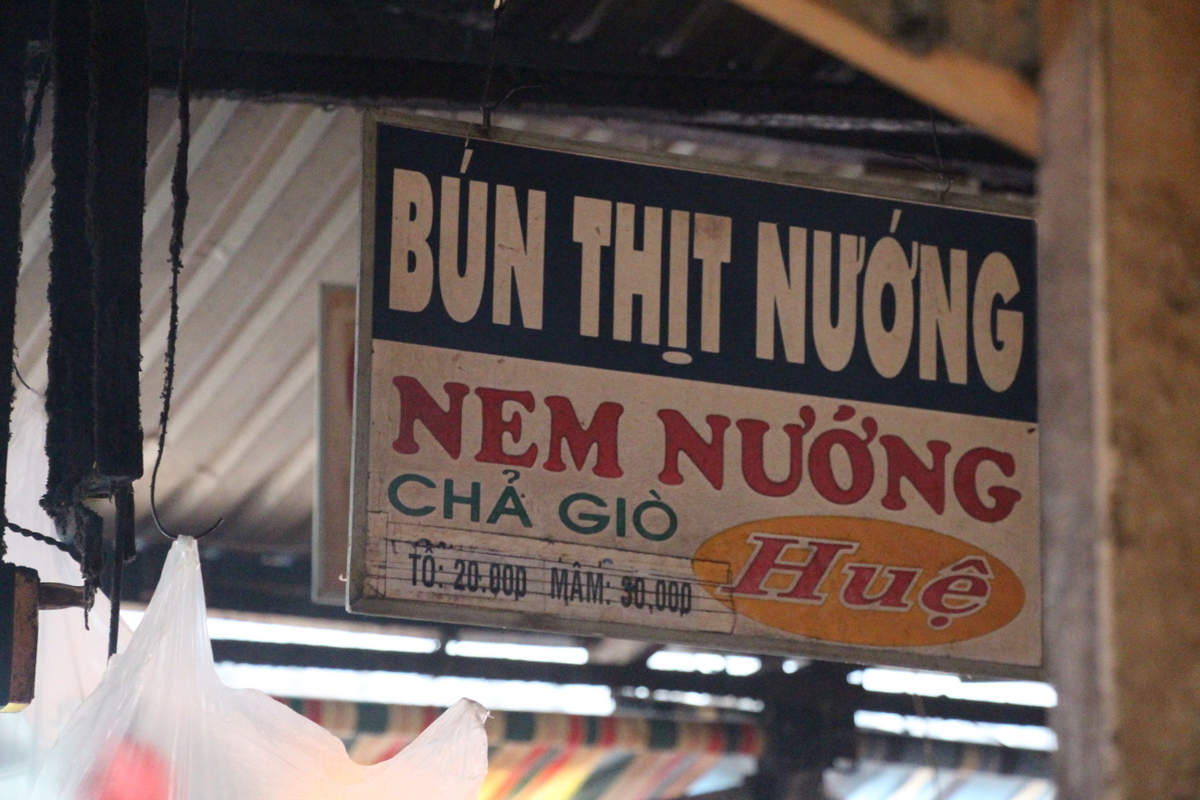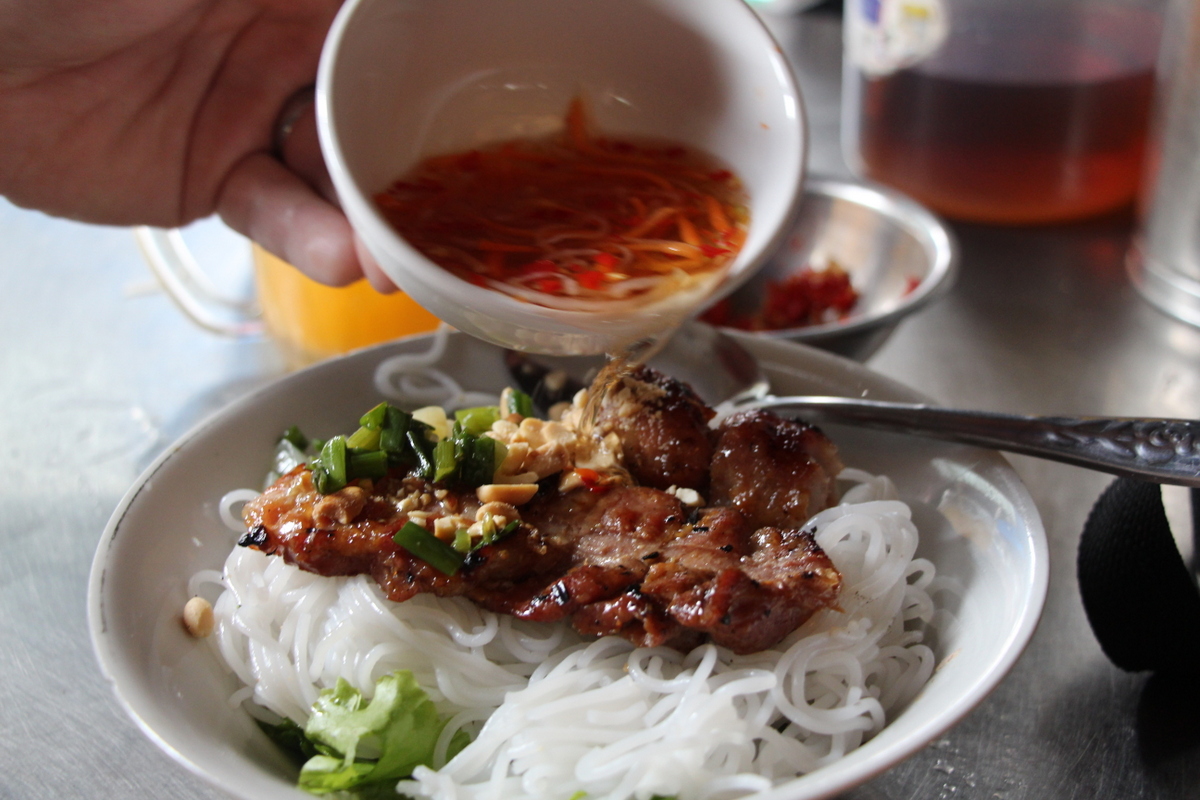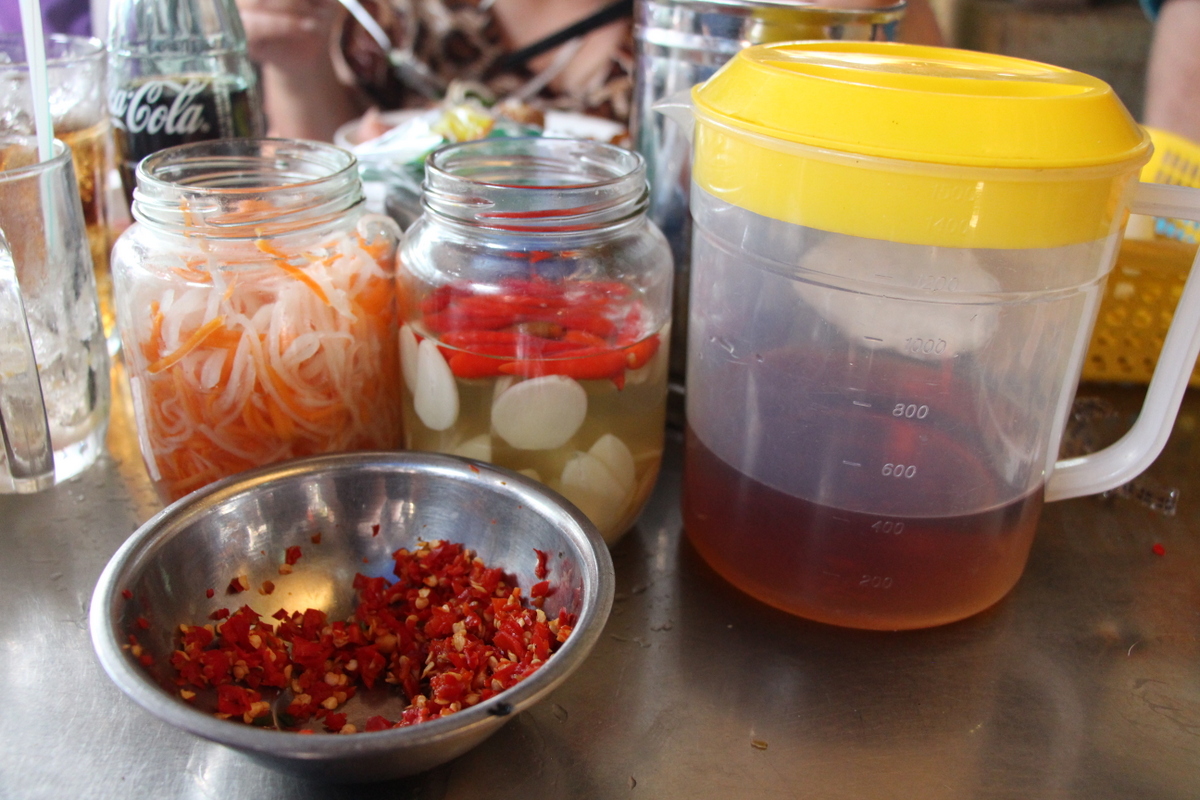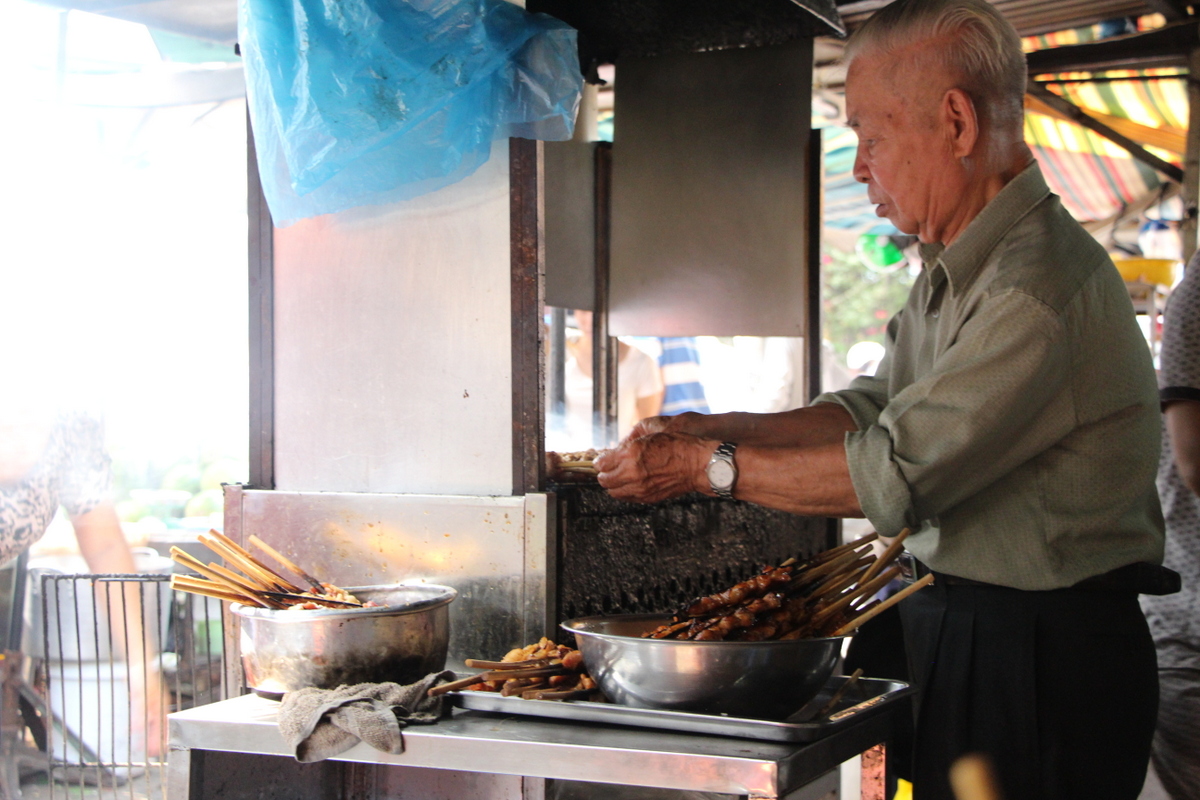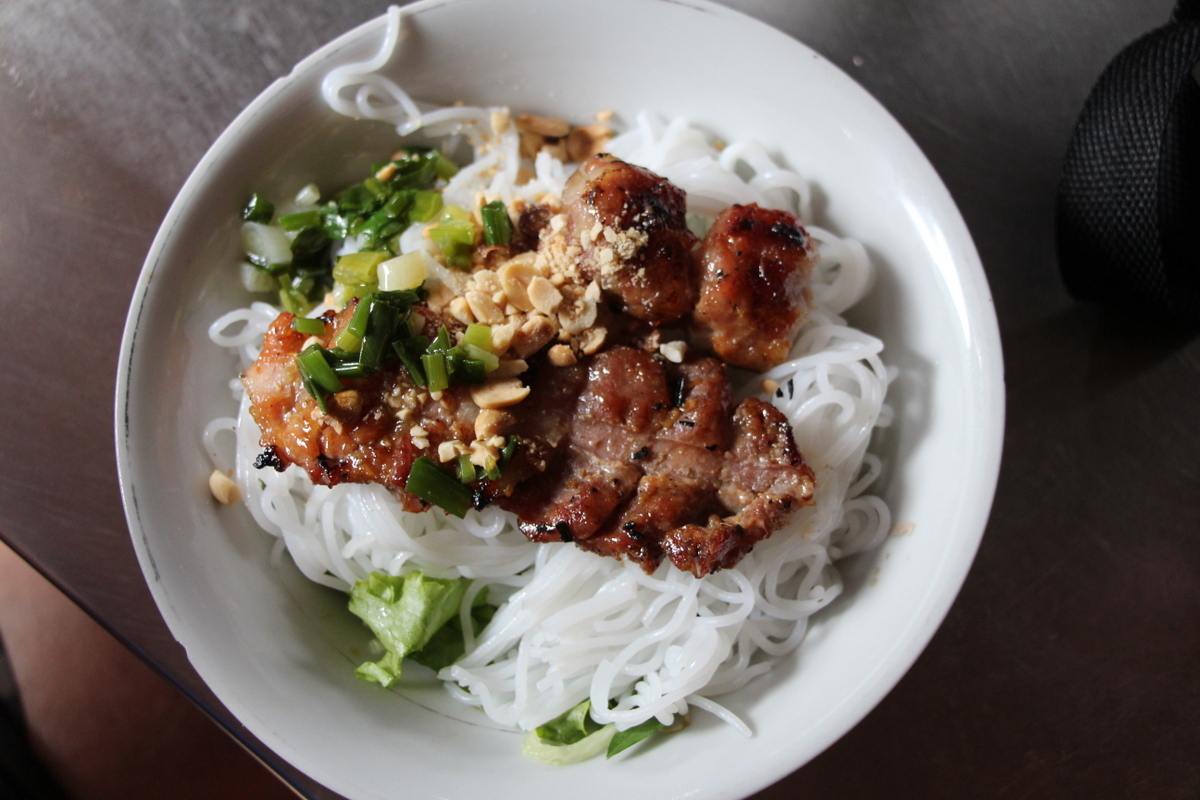 Bot Chien
Bot chien are rice flour cakes fried until crispy and topped with scrambled eggs and green onion. The crispy outsides and chewy interior created some enjoyable textures, but the overall flavor was bland and spongy. They are a classic greasy street food, and often come served with a shredded papaya salad, which was like shredded jicama but without enough vinegar or sweetness to make it taste interesting. 3 scooters.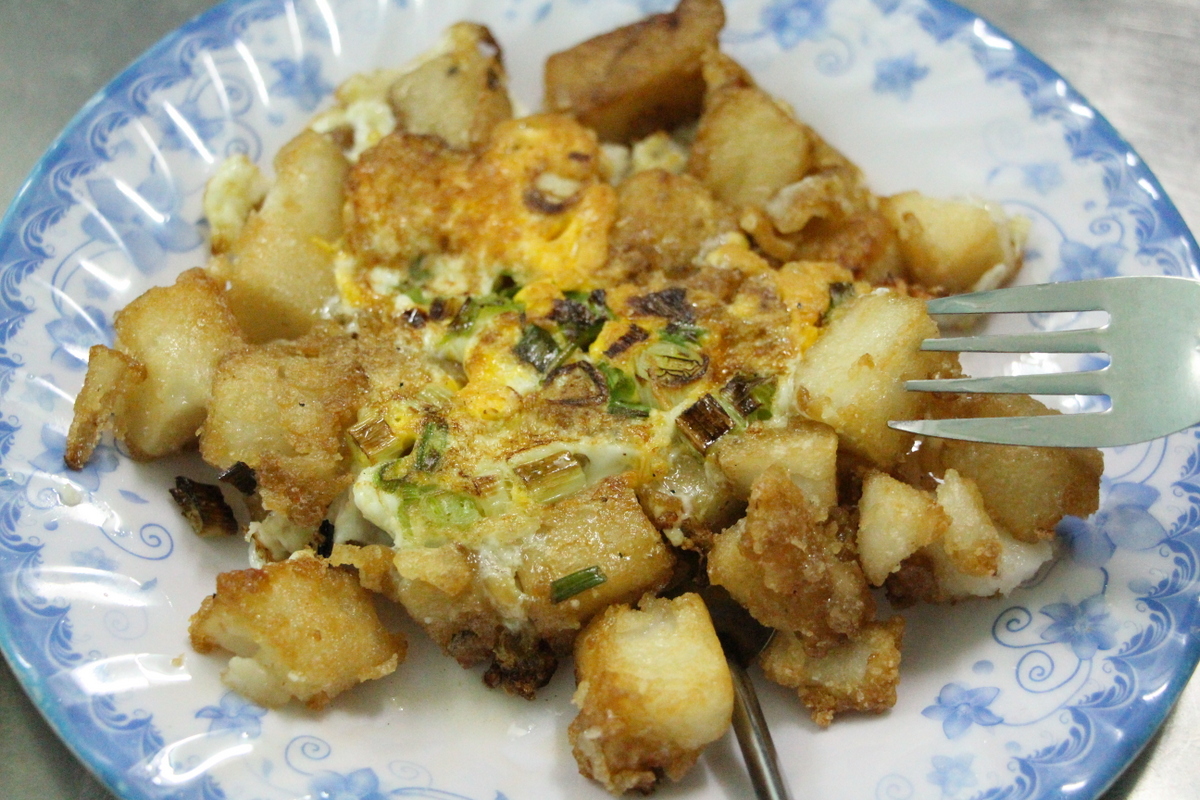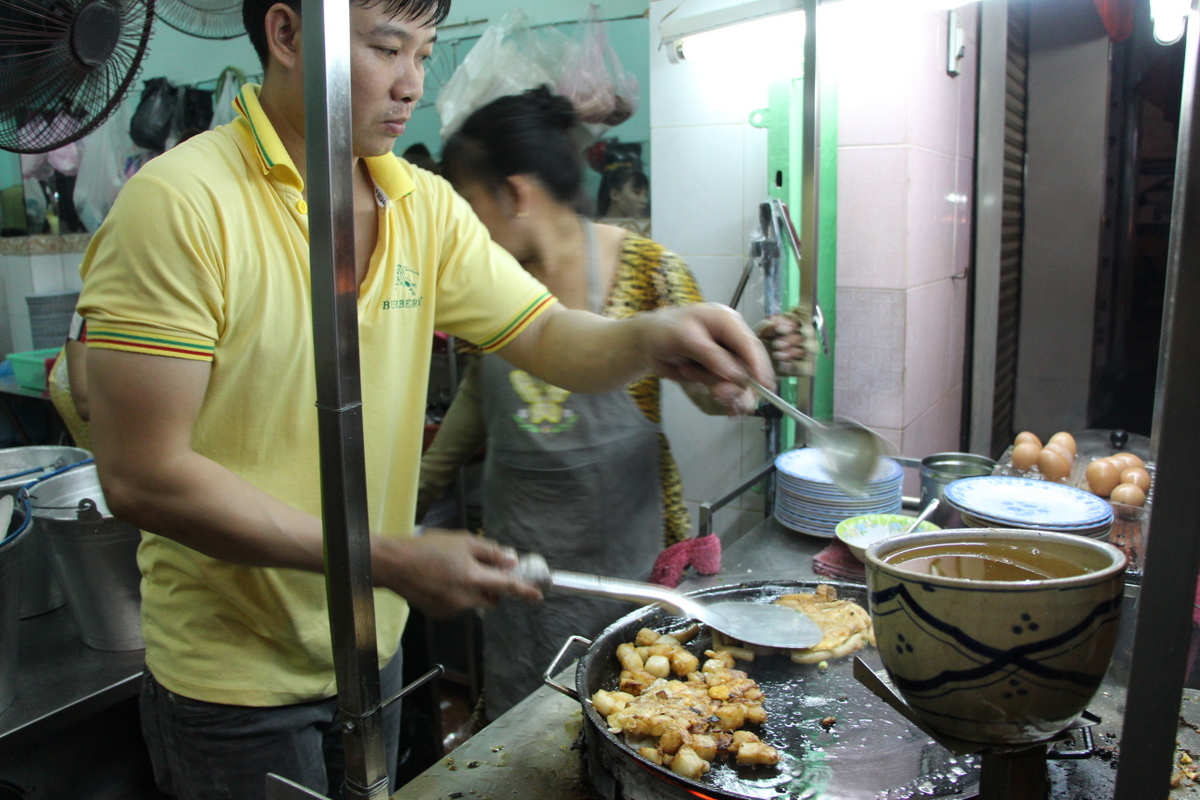 Hoa Vien Bräuhaus
Before coming to Vietnam, Andrew kept telling me how he heard about the surprising Vietnamese beer tradition. The story goes that in the hey-day of the Soviet Union and communism there were a series of cultural exchange programs between communist countries. These exchanges led to Czechoslovakians coming to Vietnam and introducing a beer culture. Czech style pilsners are common in Vietnam today, but served in the Vietnamese style - over ice.
We're not sure about how accurate the history of the cultural exchanges is, but there certainly are pilsners all over Vietnam. The best beer we found in Vietnam was at the Hoa Vien Bräuhaus, a German style beer house. They offered two main beers - dark and light. The light color was pretty decent, the dark quite delicious. Light beer, 3.5 scooters; Dark beer 4 scooters.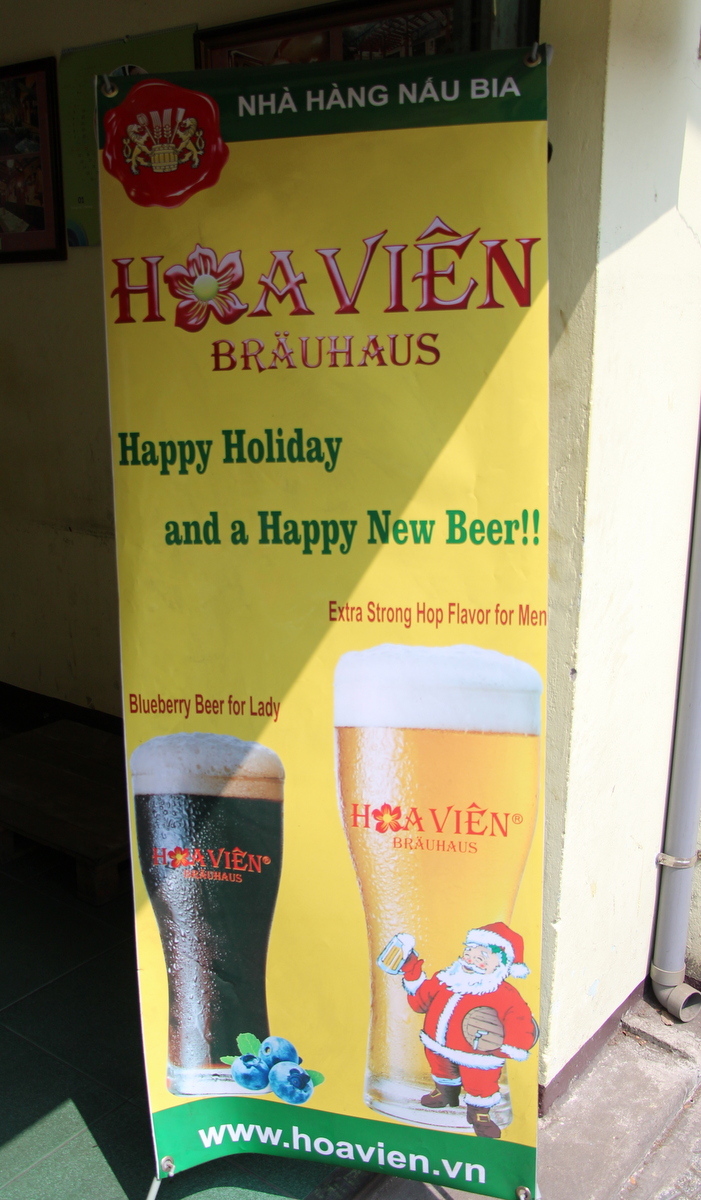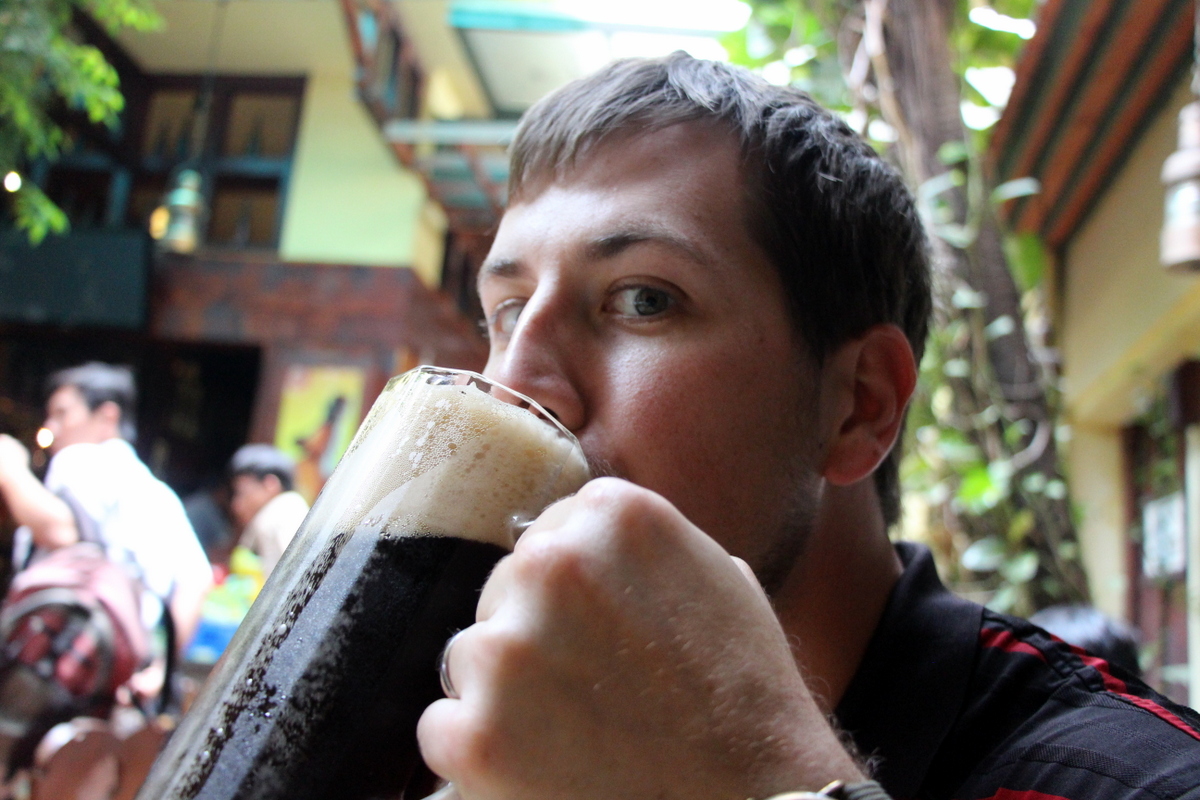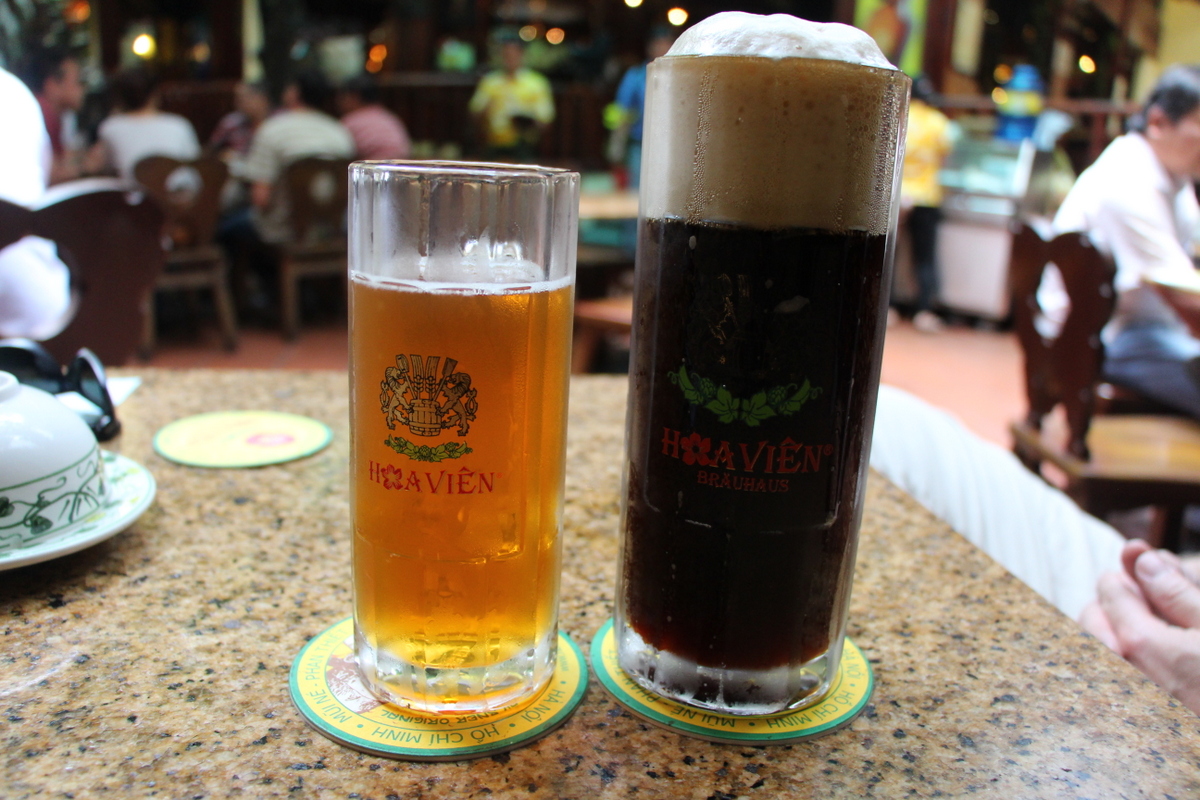 Com Suon
We found com suon on a hot afternoon after traipsing far across town and getting ripped off by a cab to find a bun cha place that was closed for Tet and a dessert place that was also closed for Tet. We grumped around, sweaty and beginning to regret not deciding to splurge on the pre-planned street food tour on motorbikes. Our moods were rapidly reversed when we found this pop up com suon restaurant not far from the Reunification Palace in Ho Chi Minh City and decided to split a plate. Com suon is a pork chop that is marinated and grilled and then served over rice. It is served with a mixture of pickled carrots and radish and with a side of light broth. Add two cups of icy cold beer and you have the best 2pm pick me up known to human kind. After our meal I walked up to the grillmaster and gave him two goofily over eager thumbs up. 6 scooters, and yeah, that's out of 5.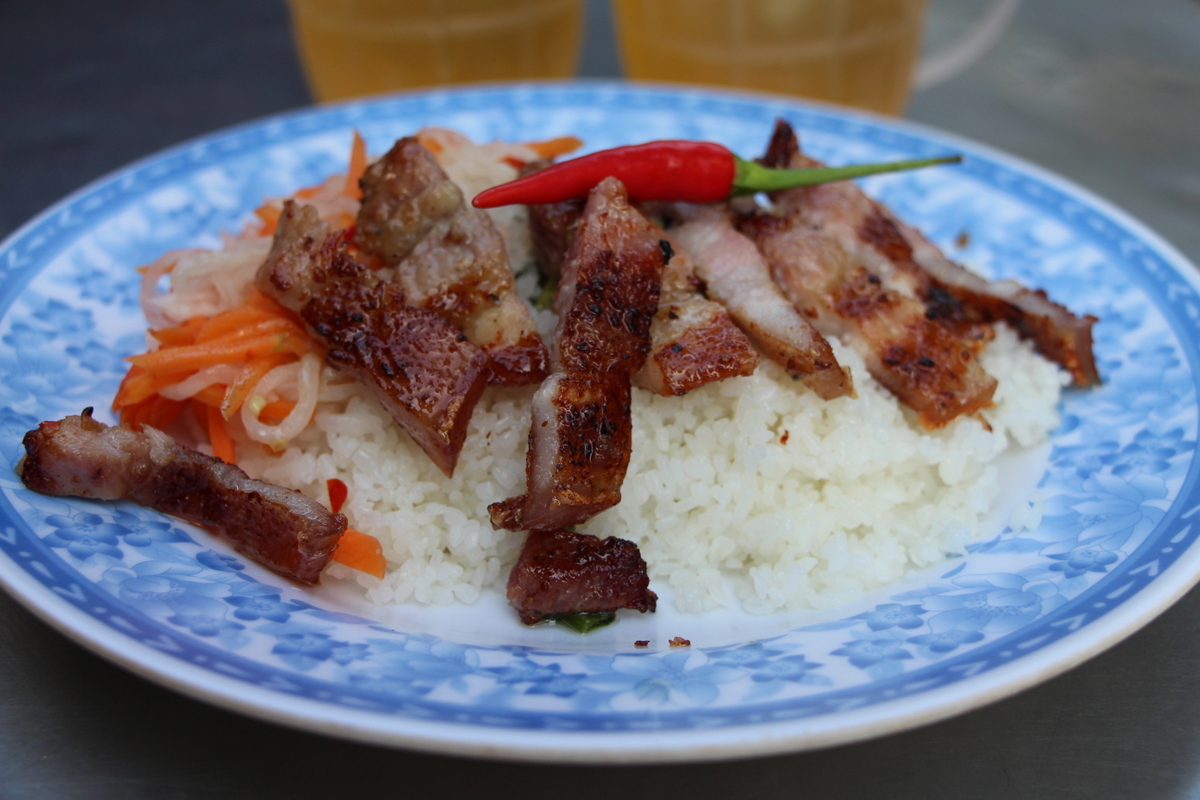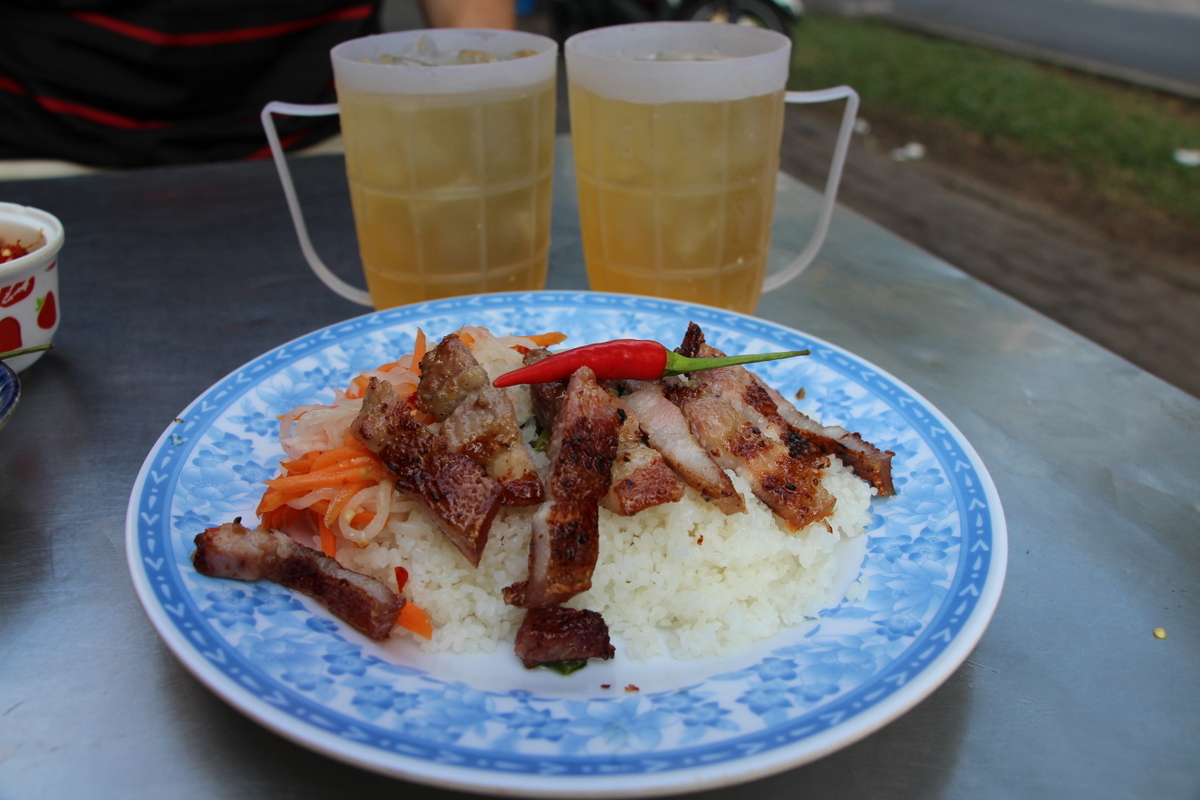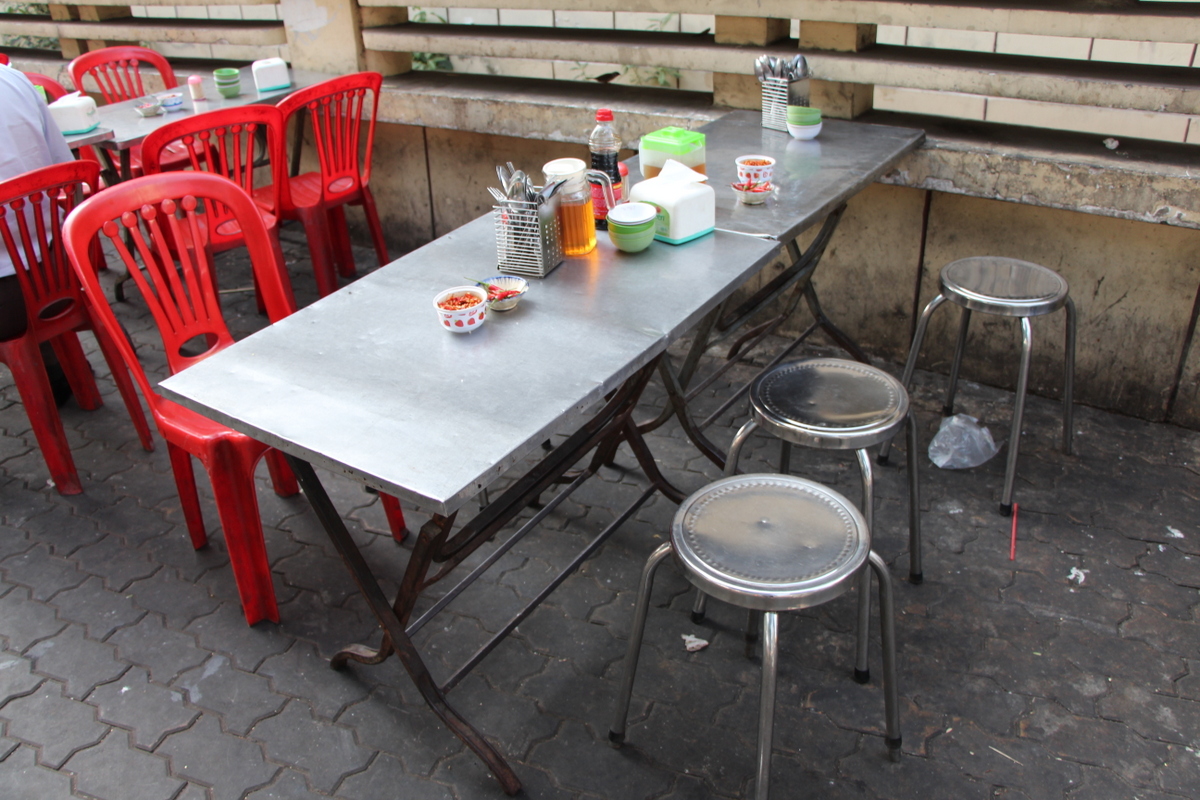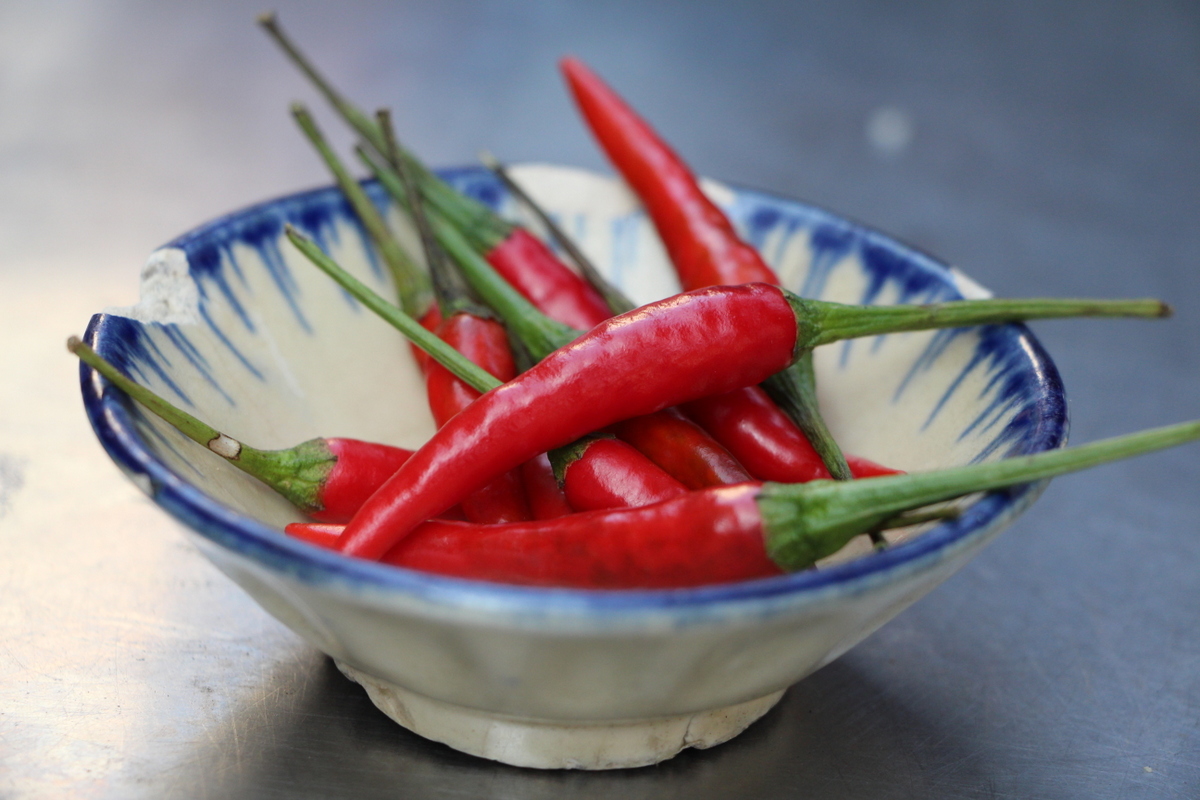 Bahn Kep
Bahn kep are small waffle cookies flavored with pandan and coconut milk. They taste a lot like fortune cookies! 3.5 scooters.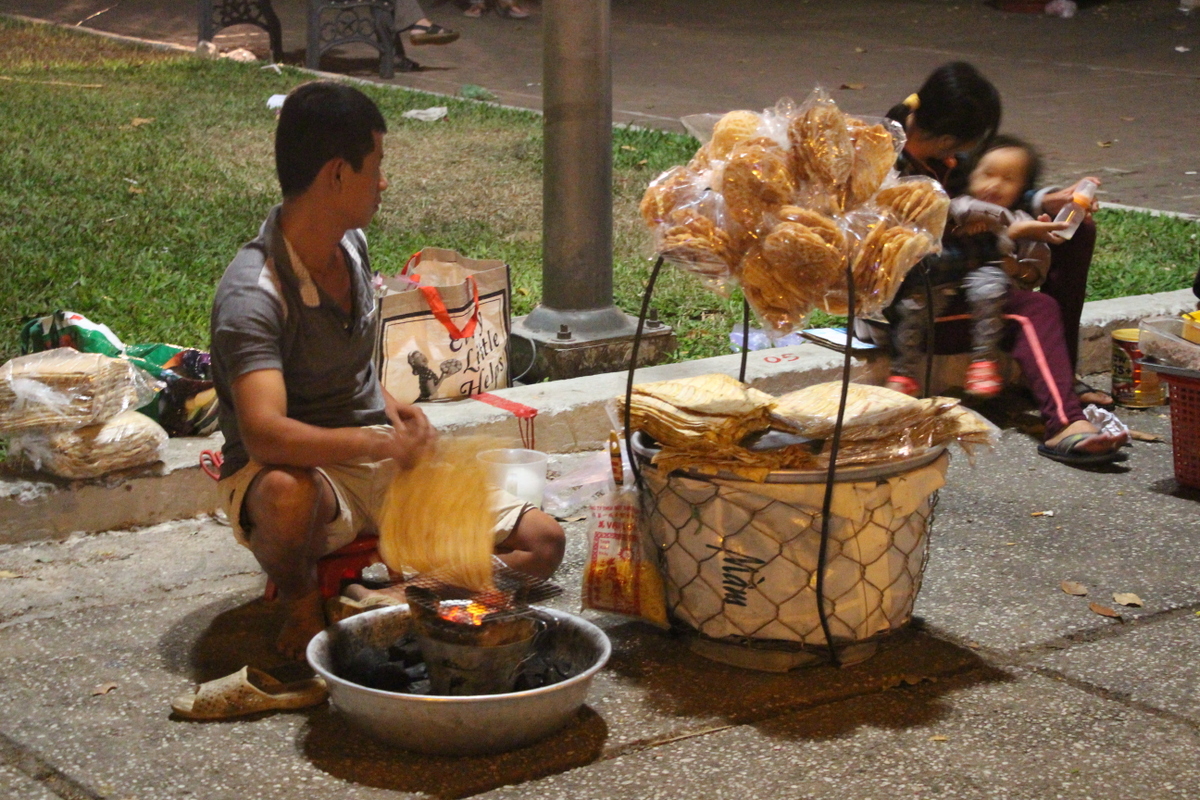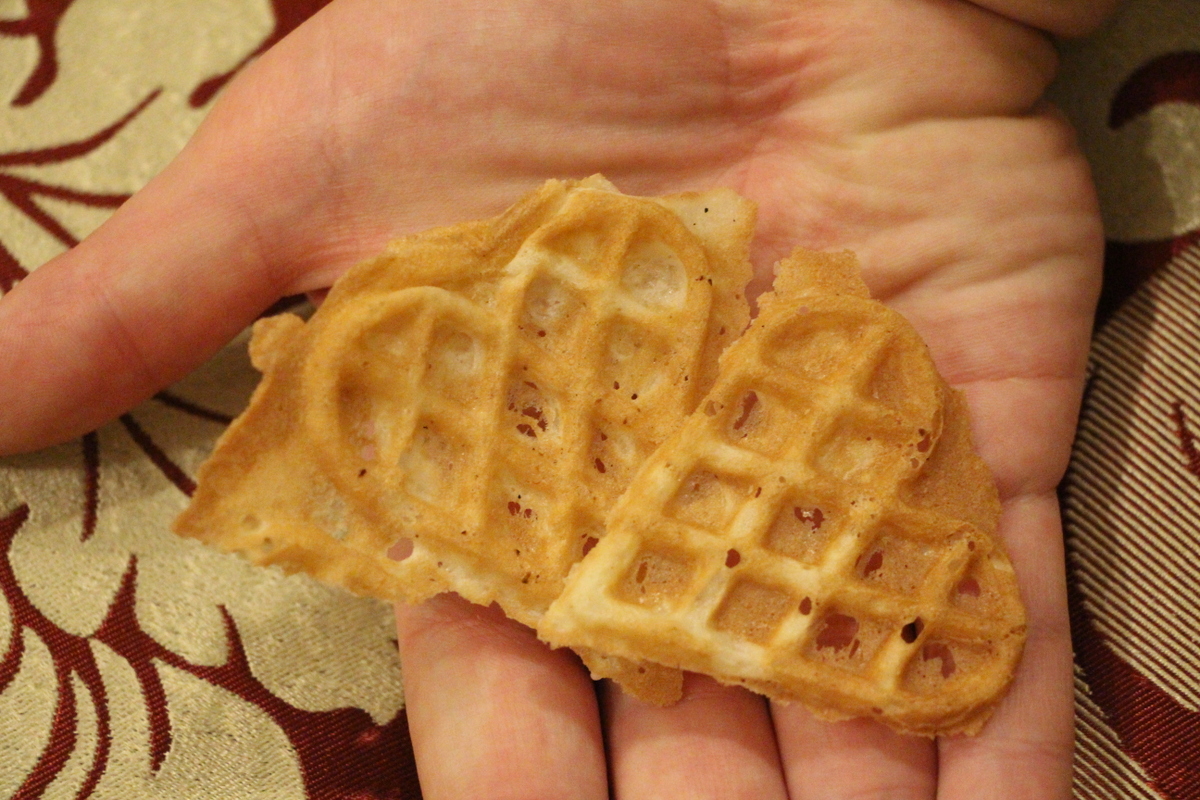 Com Dep
Com dep is sweetened rice flakes with coconut and is sold as a desert on the street of Vietnam. It has a mild, crunchy flavor and fun green food coloring. 3 scooters.
Bahn Xeo
Bahn xeo are rice flour pancakes with shrimp and bean sprouts. They are eaten in DIY lettuce wraps with fish sauce, chili, and vegetable slaw on top. They're chewy and a bit muddy tasting, falling a bit below expectation. Maybe we just didn't go to a good stand for them? 2 scooters.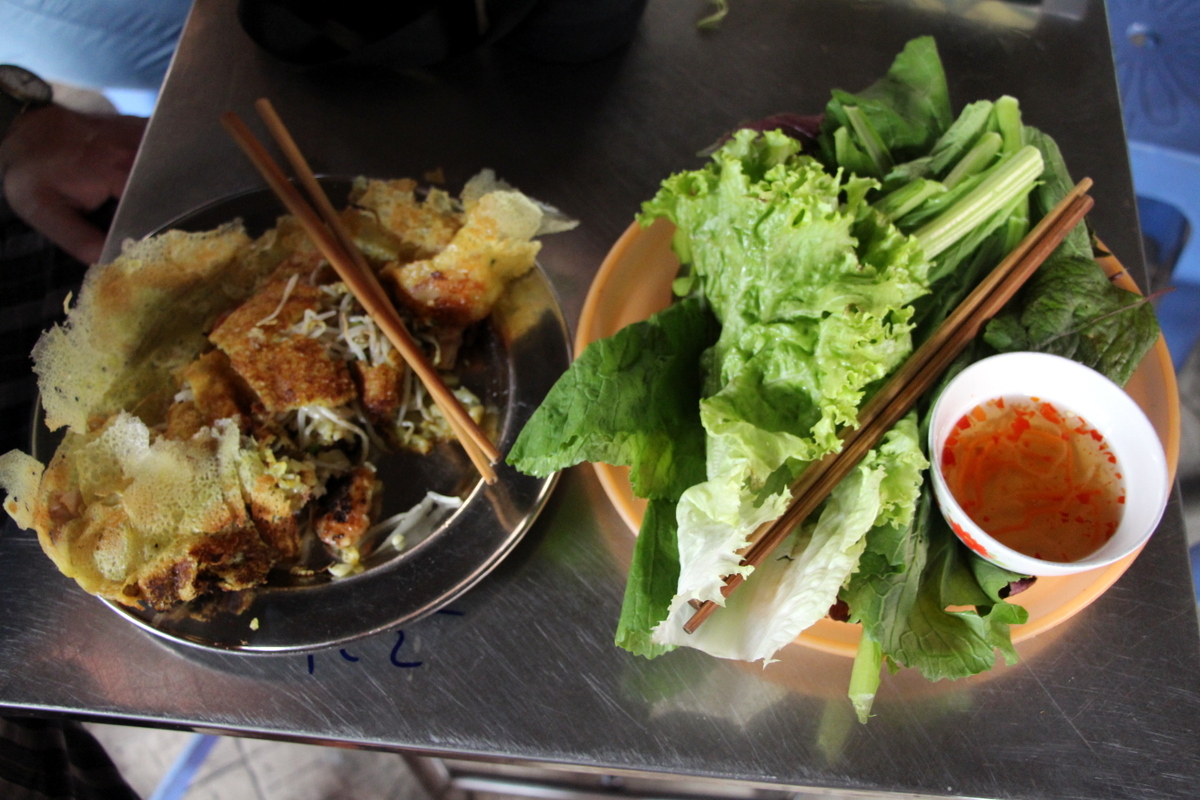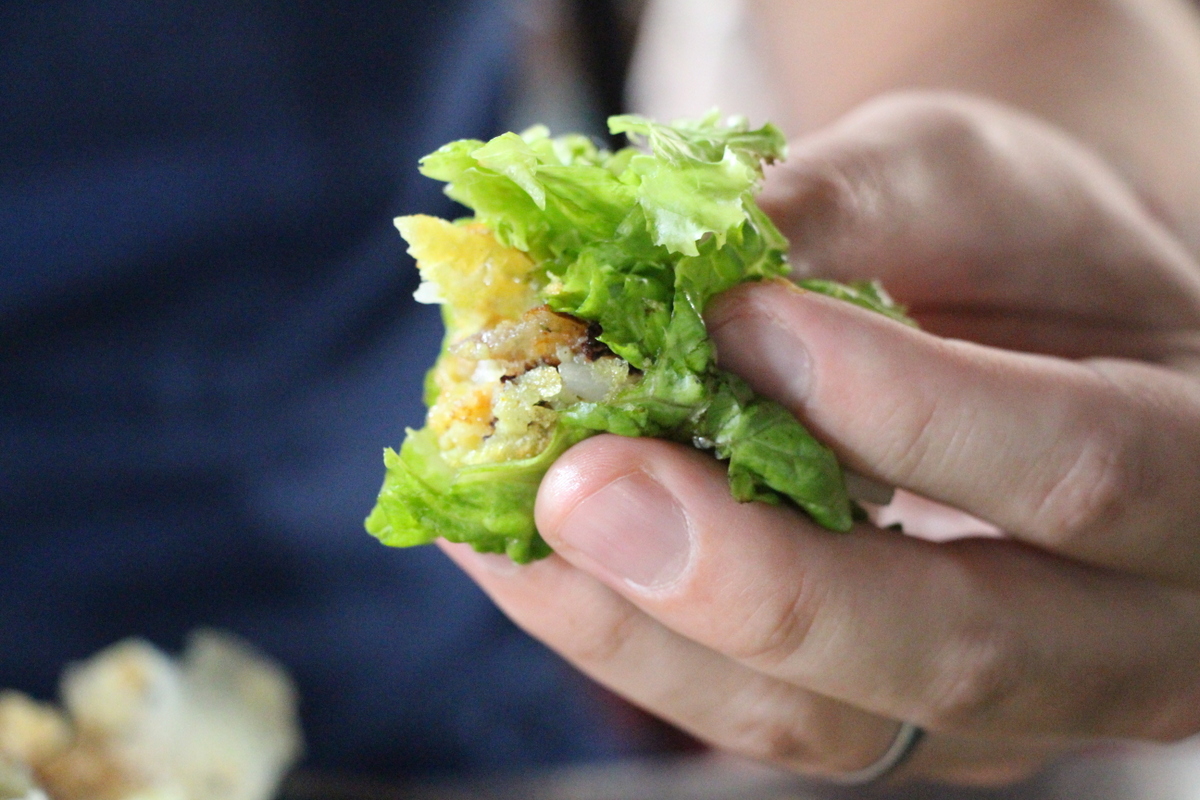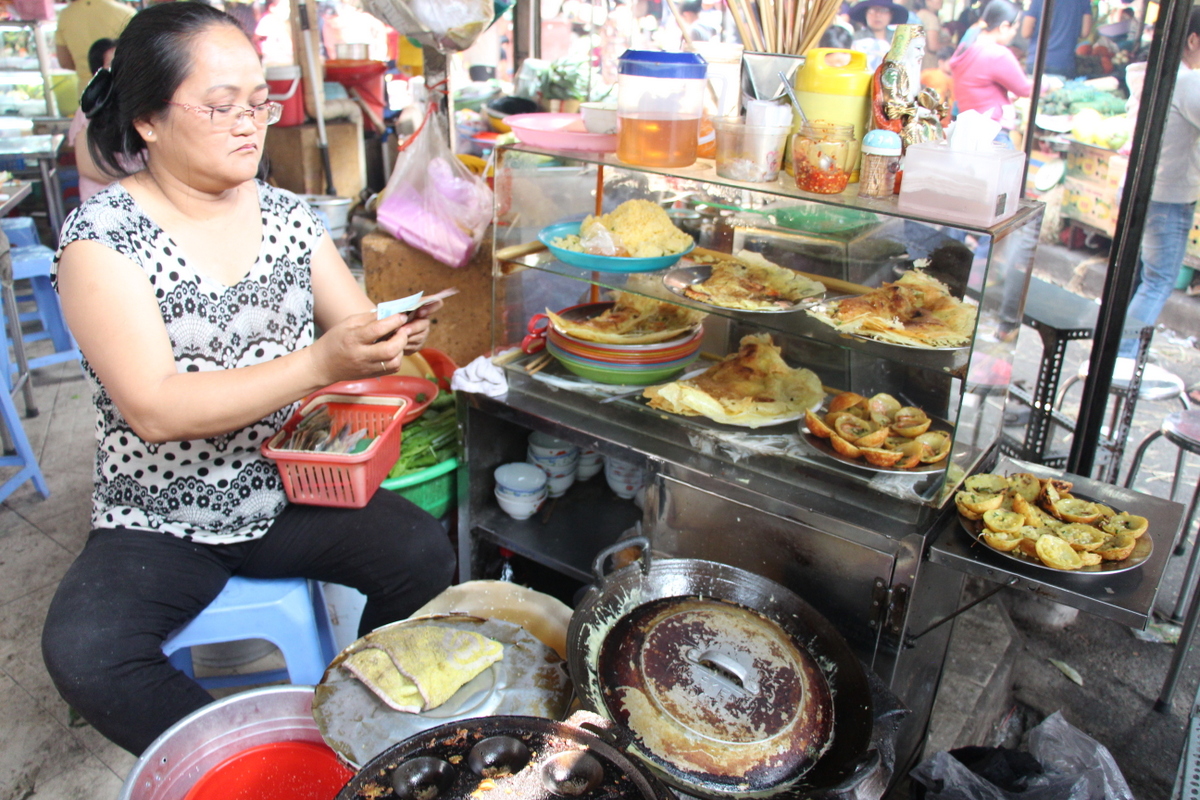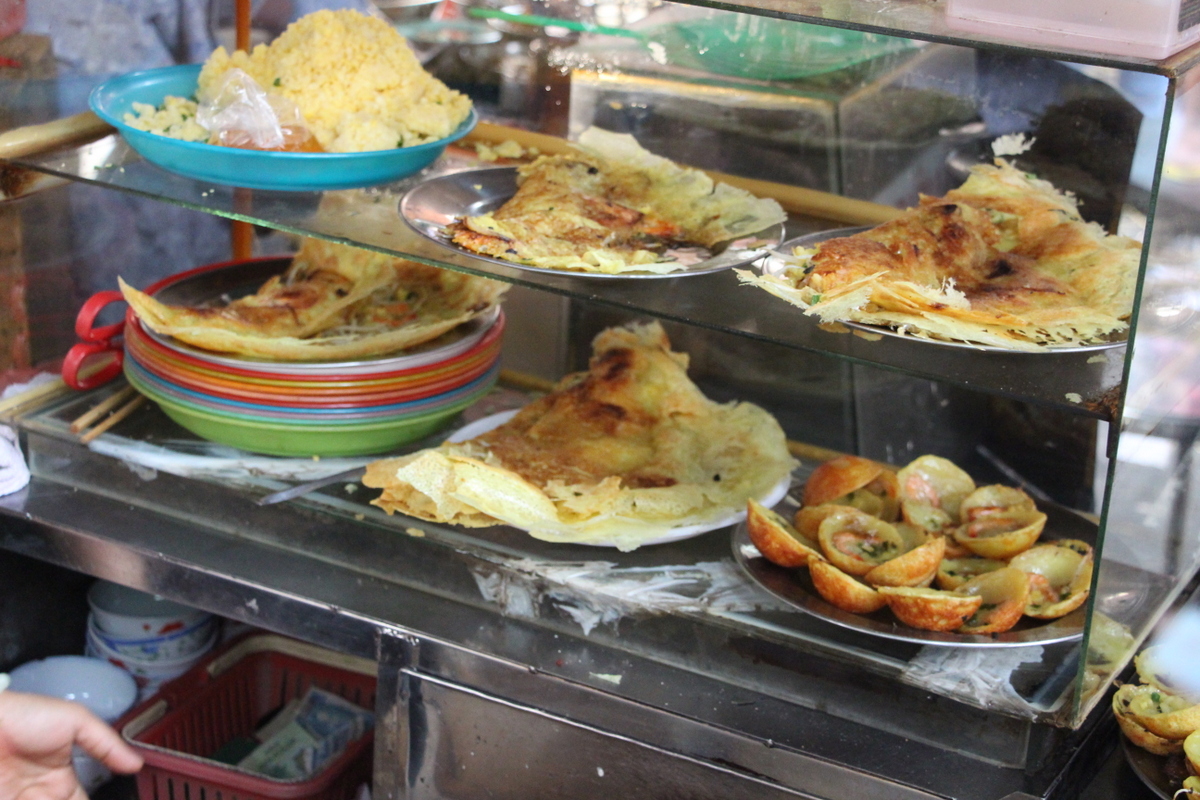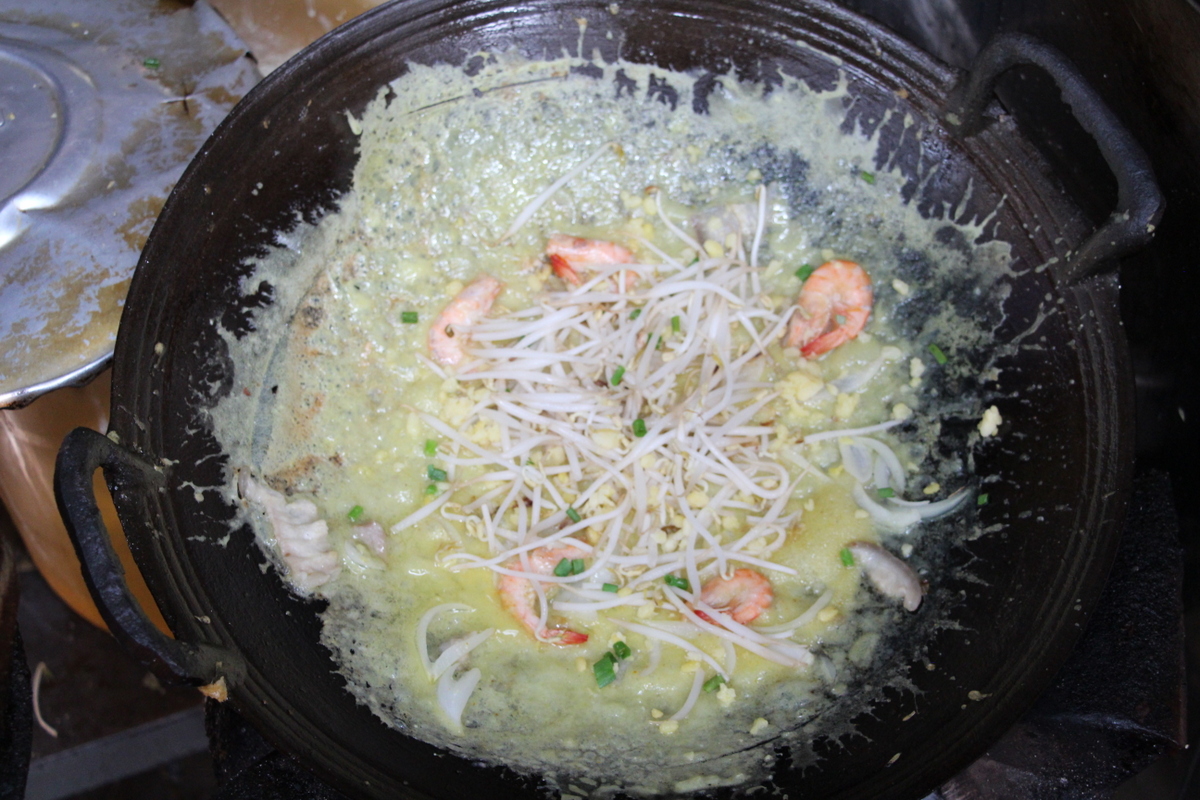 Soursop Ice Cream
Soursop is a new fruit to us that we first discovered in Singapore when we bought it in juice form over ice. It tastes a bit like a strawberry mixed with a banana with gentle citrus notes, and is absurdly yummy. We found soursop in ice cream form at a small ice cream parlor in Hanoi that was mild, fruity, and refreshing. 5 scooters.
Bahn Cuon
Bahn cuon is a rolled rice noodle dish filled with ground pork and wood ear mushrooms. They are topped with Vietnamese pork sausage, which we immediately set aside in order to devour the tastire contents hidden below. The fried shallots on top are delectable compliment to the chewy noodles and crisp, watery bean sprouts. Overall, the dish reminded me of those tasty rice noodle rolls wrapped around shrimp that I like to order at Chinese dim sum restaurants, so I was basically an immediate fan. 4 scooters.
Sweetened Sticky Rice
Sweet, sticky, glutinous, covered in coconut and peanut paste- overall a great evening snack. 3 scooters.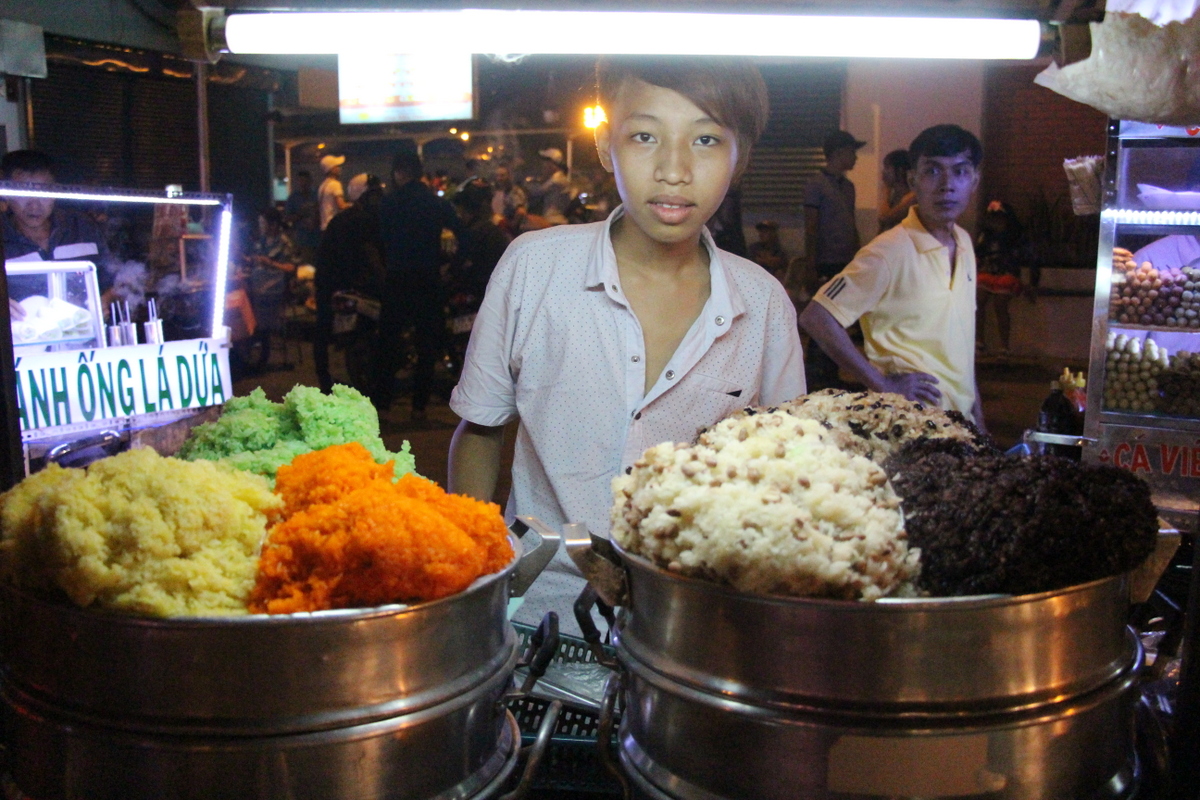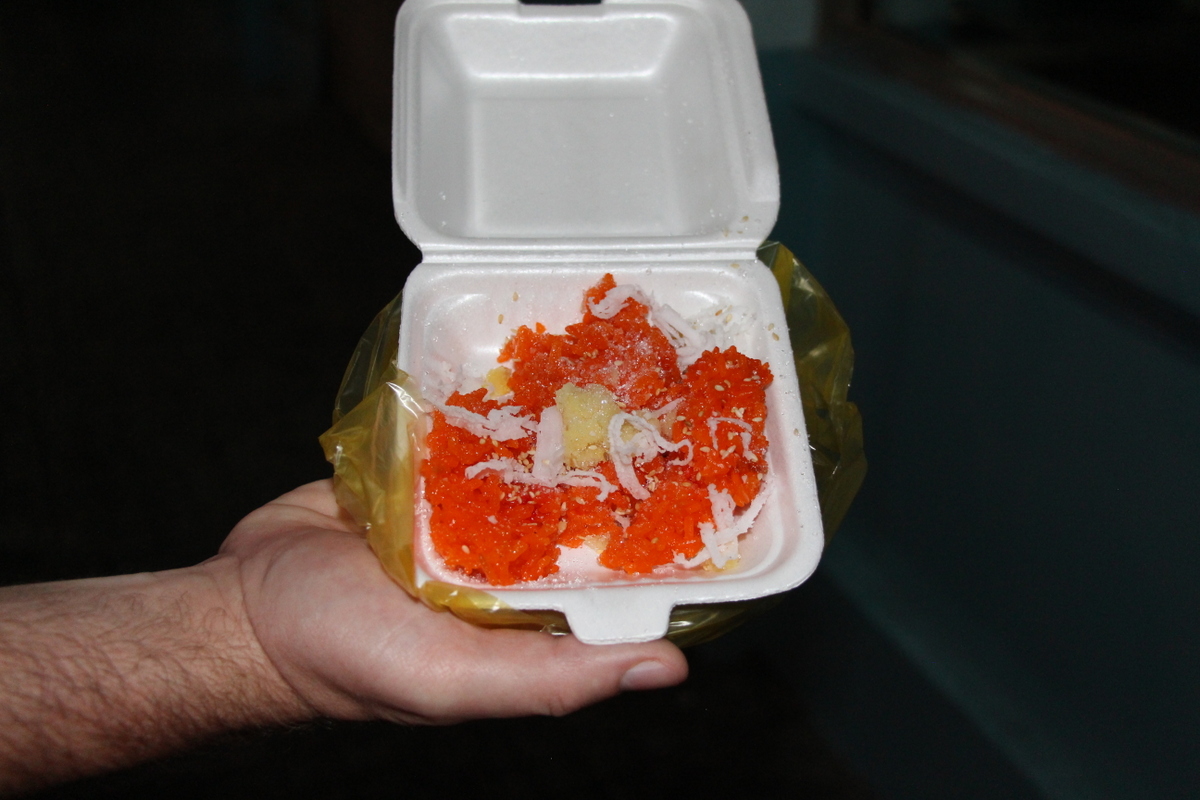 Pho
In Vietnam, like in China and many other places throughout Asia, soup is staple breakfast food. Among the laundry list of Vietnamese soups available, pho (pronounced "fuh" or "fuhr") is by far the most popular and comes with either chicken meat/broth (pho ga) or beef meat/broth (pho bo). A large pile of rice noodles is added to the broth and then topped with thinly sliced meat and green onions. When the steaming broth of fresh, meaty goodness is served at the table, the diner customizes their own bowl from the large plate of lime, beansprouts and herbs (cilantro, basil, mint, etc.) and bottles of chili sauces available on the table. It's apparently a faux pas to tear up the basil before putting it in your soup, which I found out the hard way by being told off by our teenage waiter. No matter - grab a pair of chopsticks and slurp away.
I've loved pho since I was first introduced to it my freshman year in college at one of the Carmichael Dining Hall's rotating theme nights. Pho, like all Vietnamese soups, has a clear, aromatic broth made from hours of simmering meat bones. When Andrew and I left Boston, I told him having pho for breakfast on the streets of Vietnam was among my top travel priorities, and I got my wish many times over. That said, I can't say any bowl had a Vietnam-specific transcendent mystical property that set it radically apart from the bowls I've had in the US, aside from the price ($2/bowl) and atmosphere. Pho in Vietnam was always better than the worst pho I've had in the States, but on par with the best I've had, usually at Les in Harvard Square. 4.5 scooters.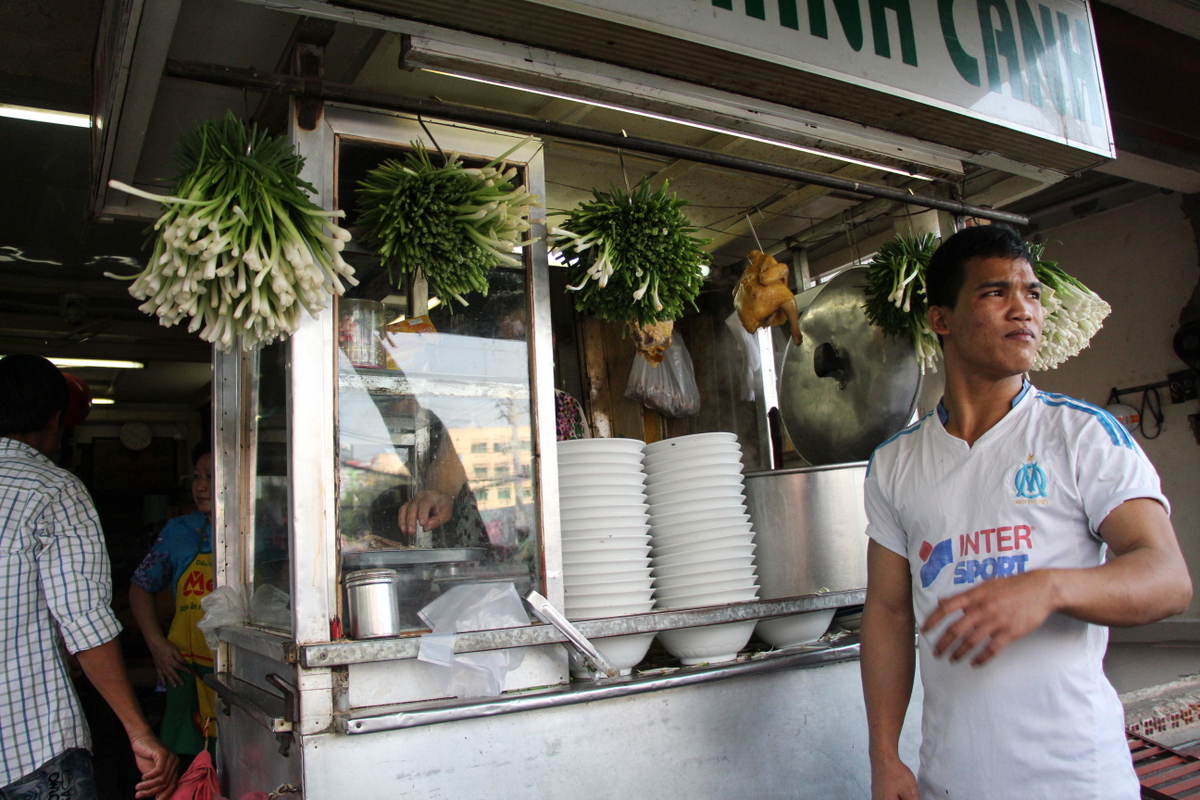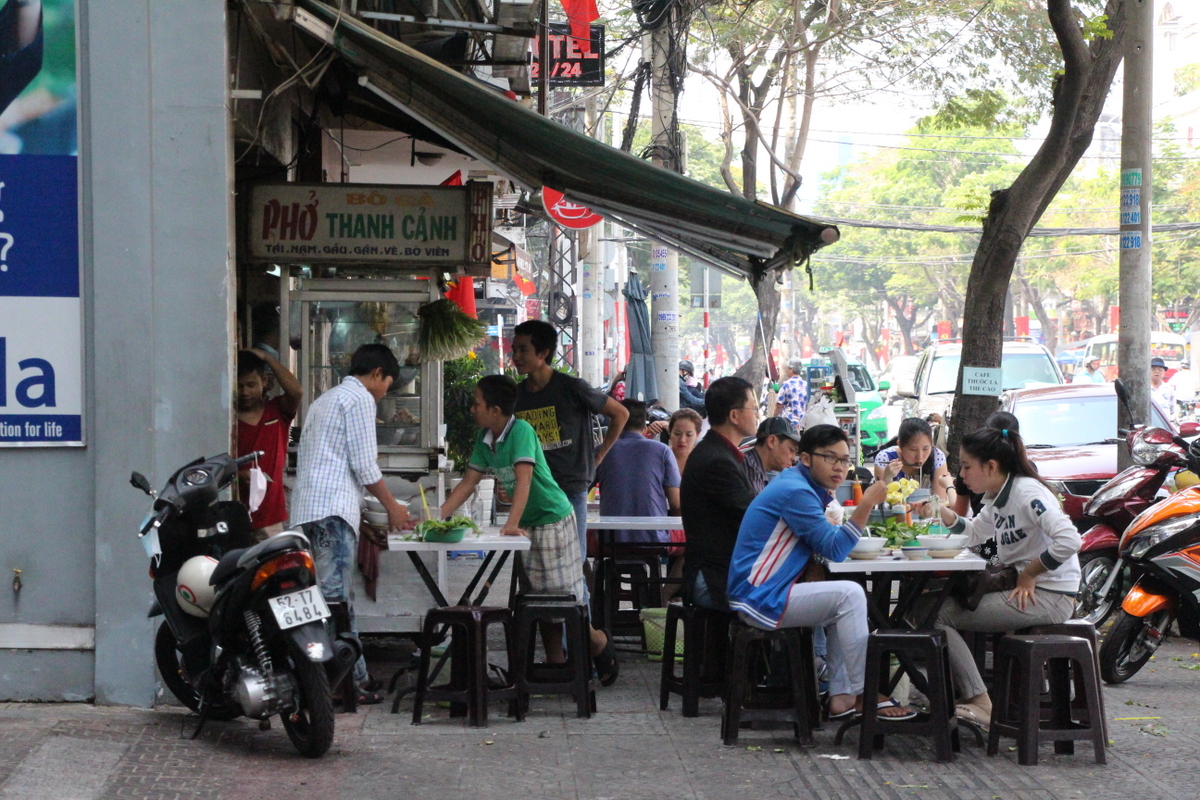 Bun Moc
Bun moc is a noodle soup similar to pho that is topped with pork meatballs, chewy pork meatloaf, and braised porkchop. We found it not as flavorful as pho, and the meatballs and loaf to be bland and unappetizing. Still, it's hard to go too wrong with well seasoned clear broth and a steaming bowl of rice noodles topped with fried shallots. 3 scooters.
Nom Thit Bo Kho
We found this dish for a light dinner outside the water puppets theater in Hanoi. It's a salad of shredded papaya topped with herbs, dried beef and pork, and topped with peanuts. When mixed together, the dish is sweet, sour, salty, and crunchy. Only 3 scooters, but doesn't it make a lovely photograph?
Che
Rather than a specific dish, the term "che" refers to an entire category of Vietnamese dishes: the desert soup. We managed to fit them in on our last night in Vietnam. The first dish, bahn troi chay, was glutinous rice balls (popular in Asia and pleasantly chewy) with palm sugar in the middle and topped with grated cocnut and sesame seeds. Our second che, bahn troi tao nong, was a bowl of larger rice balls which were filled with either sweetened sesame paste (the best) or sweetened green bean paste in the middle. These balls were floating in ginger syrup and topped with crushed peanuts and coconut milk. Both dishes were good, if similar. I'll confess though that my favorite dessert in Hanoi was the hibiscus sorbet I had after the water puppet show, but more on that later. 4 scooters for the che.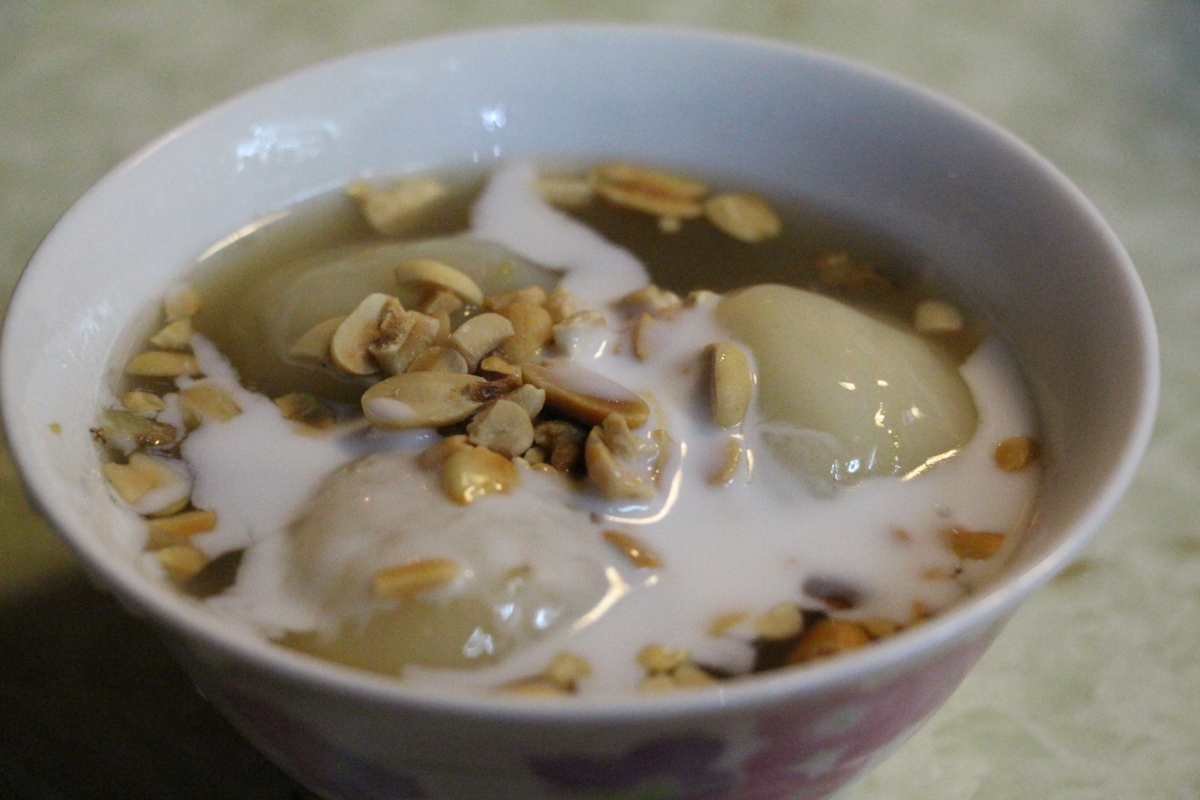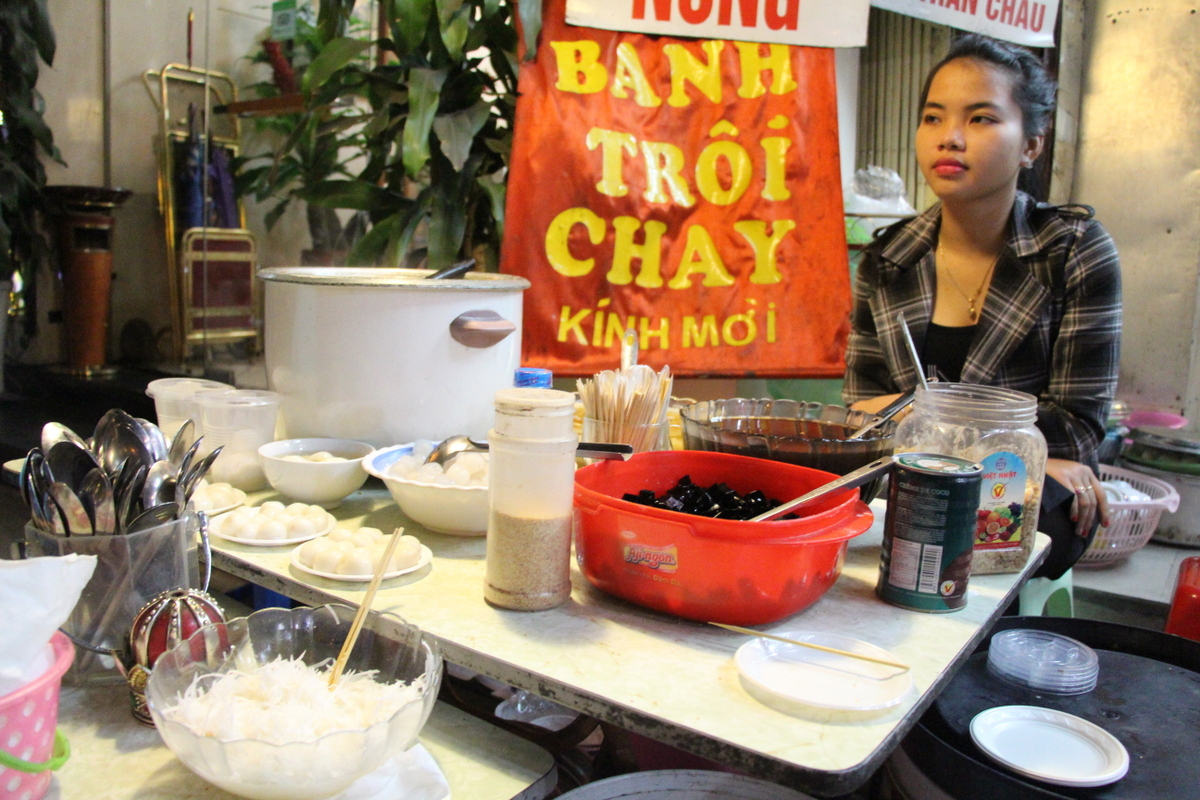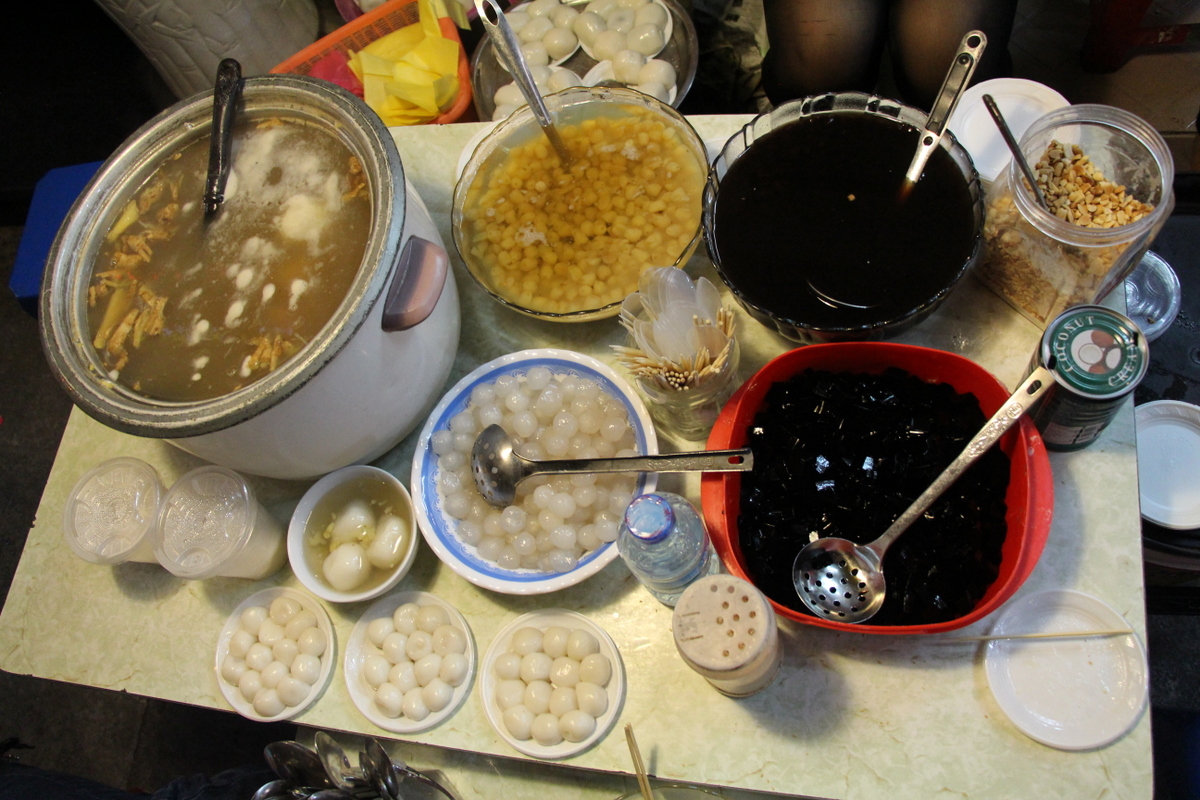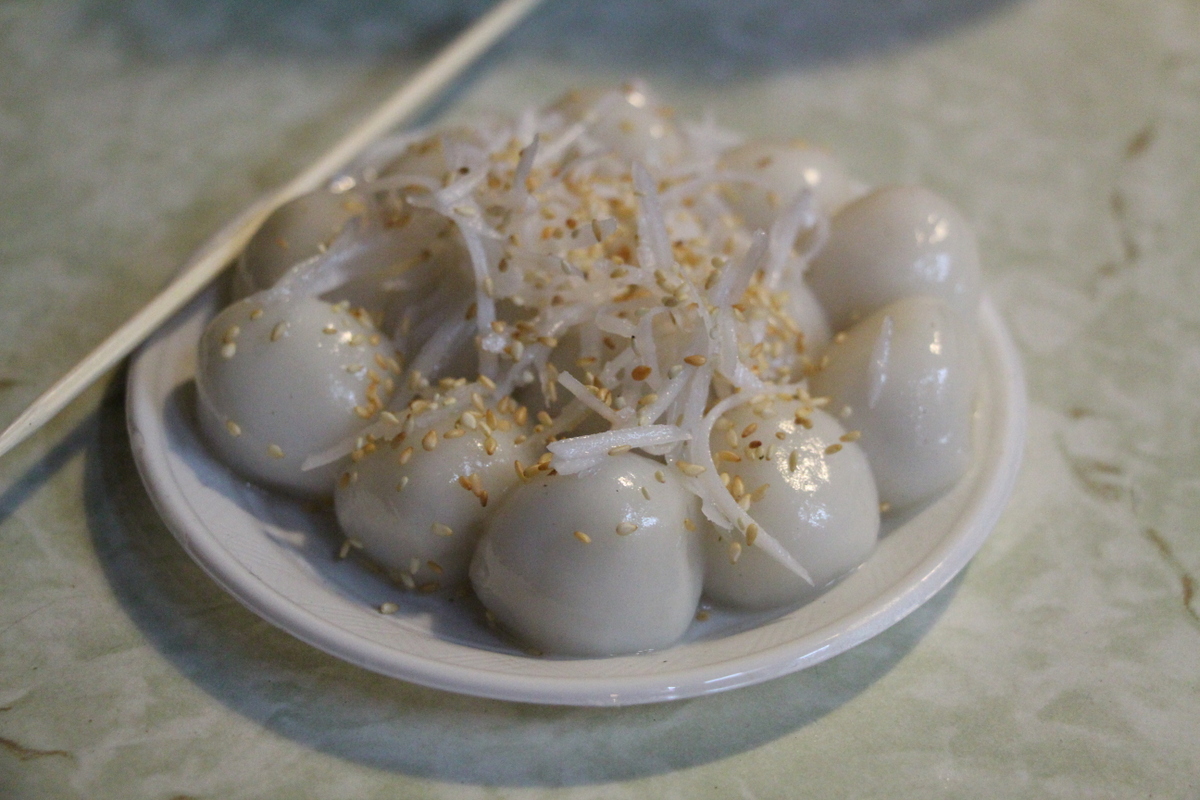 Hanoi Street BBQ
Every night in Hanoi, Ma May Street, the main backpacker road, bustles with pop up DIY barbecue restaurants. Diners crouch on low plastic stools around small tables, on the center of which is a grill pan, a cup of chopsticks, and a tub of margarine. A 14 year old boy in skinny jeans will come by to light the sterno, take drink orders, and fetch a fresh baguette. Diners can choose up to two meats (we went beef and pork) marinated in lime, tamarind, rice vinegar, and coconut caramel. The raw meats are served on a plate with mixed vegetables. Vegetables and meat are grilled at the diner's leisure, and then dipped into a sauce made table side with salt, pepper, sugar and calamansi lime juice. This combination is almost obscenely delicious on onions slow grilled alongside crackling pork belly.
On a side note, I've now developed a love affair with calamansi limes, a magical, juicy hybrid between limes and kumquat available all over Asia. They're that is especially delicious $2 caipirinhas served at a beach-side cafe overlooking the sunset, which we had in the Philippines. But I digress. Total cost for the BBQ? $10 for two, plus about $1 for two icy cold Tiger beers. 5 scooters.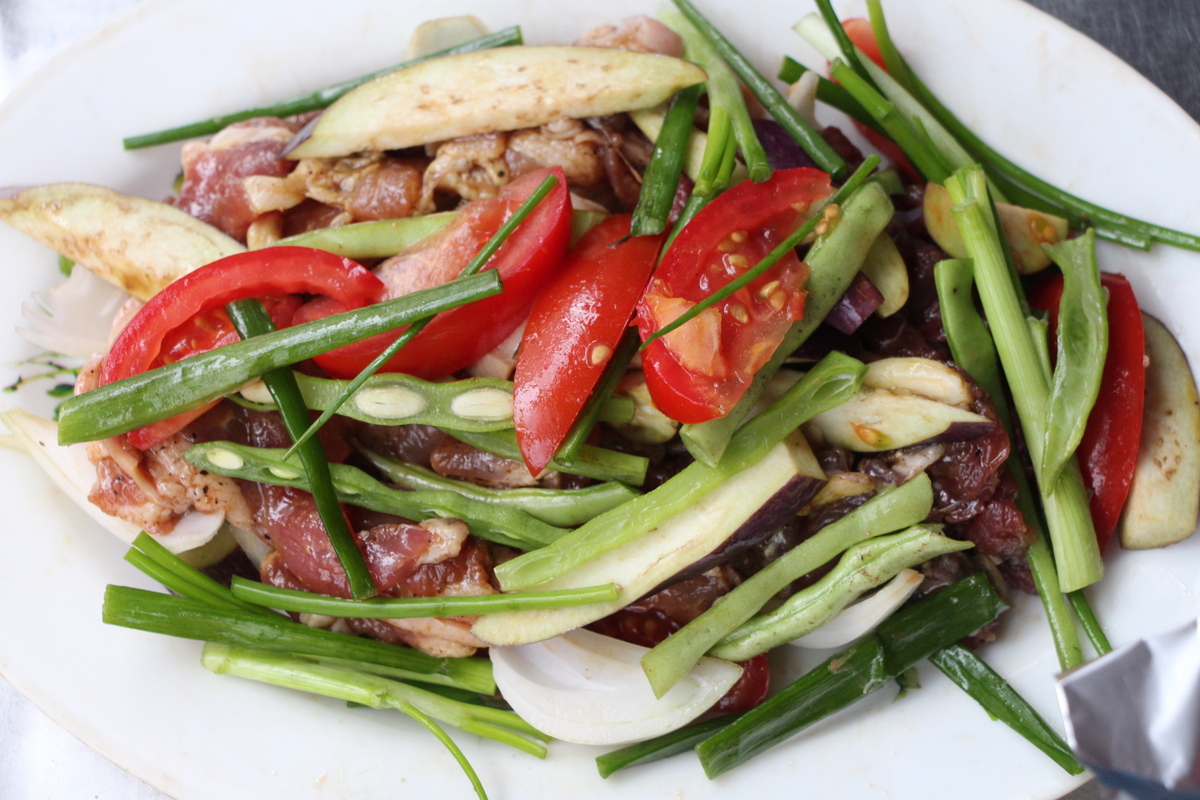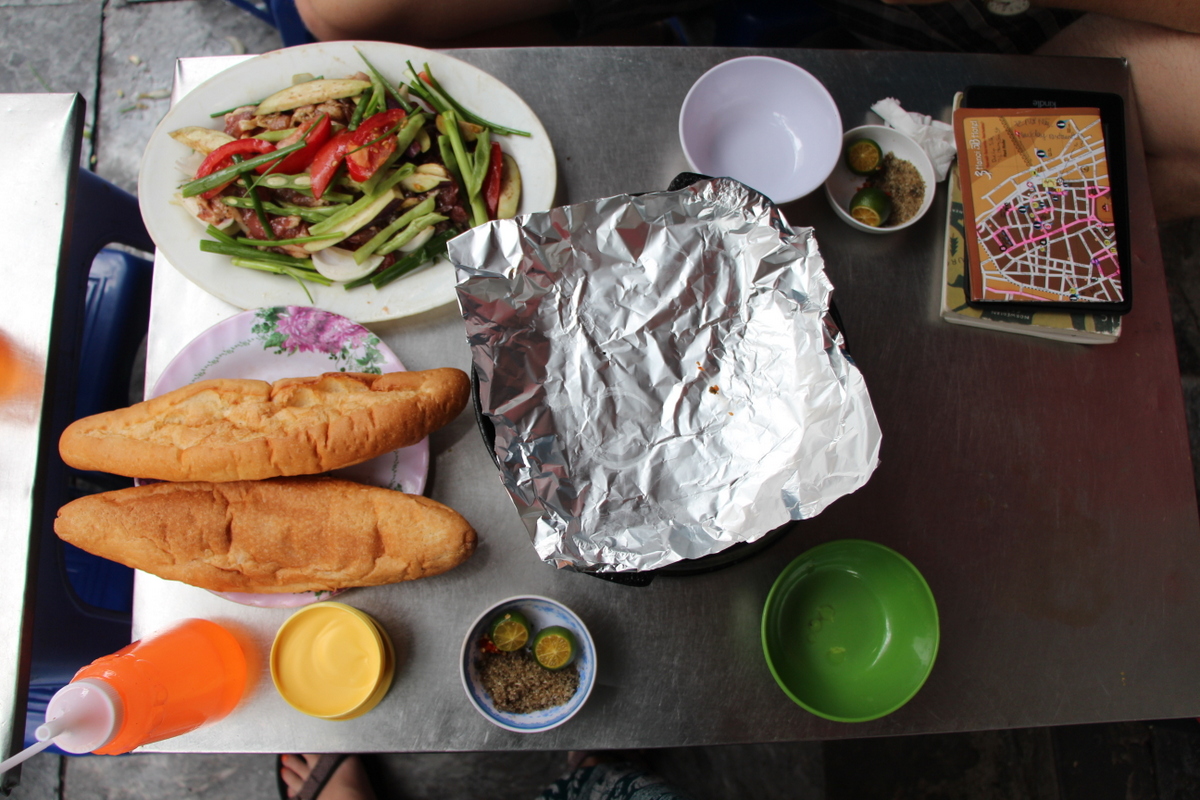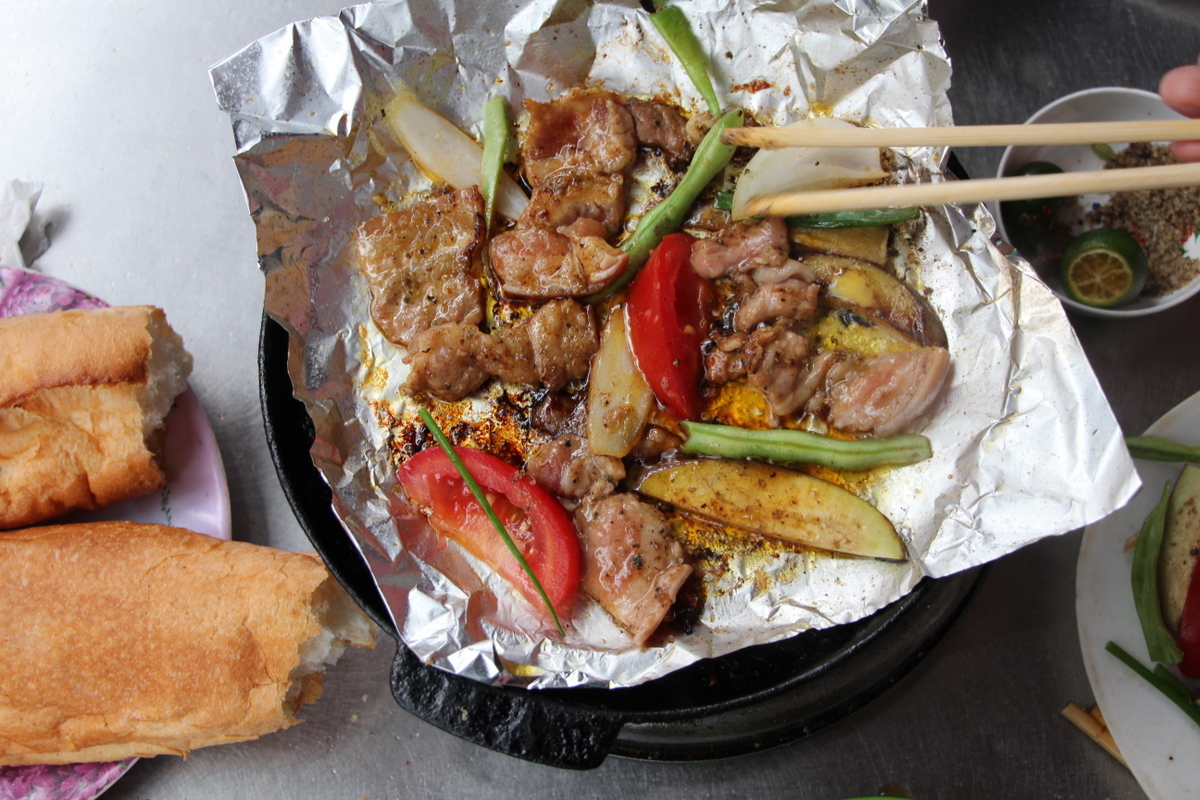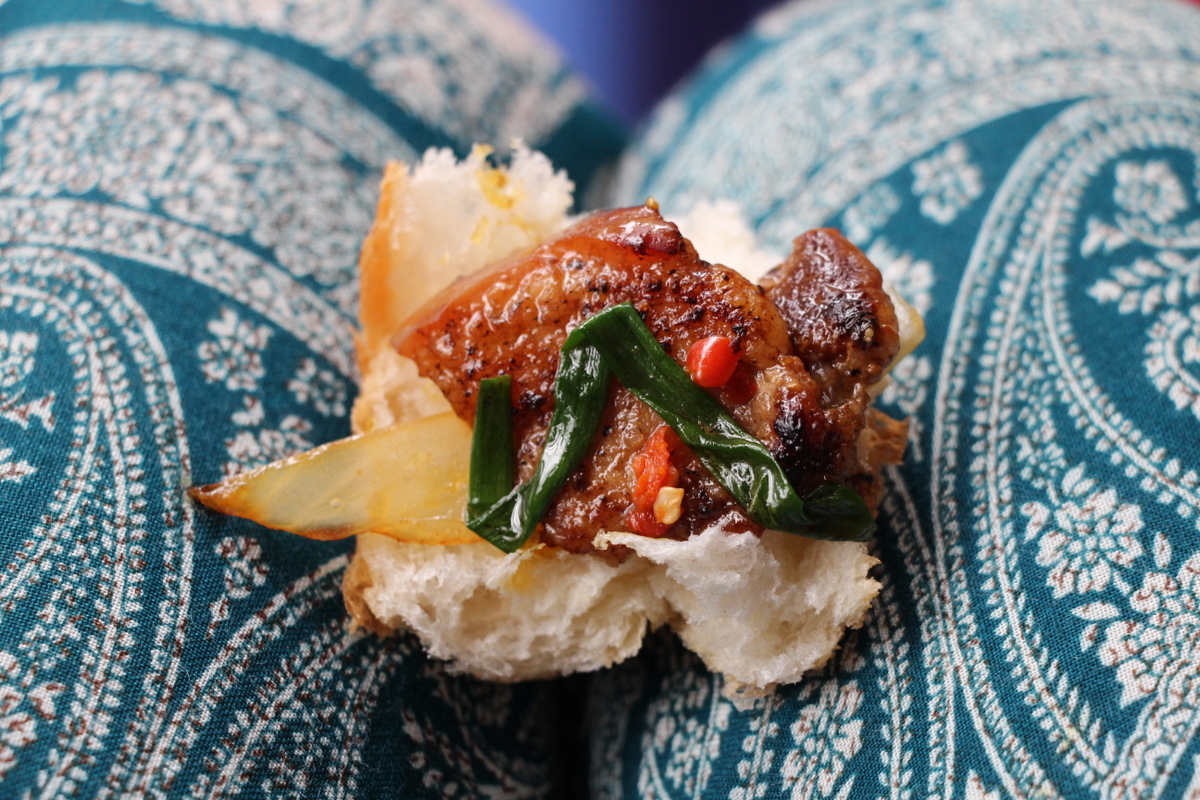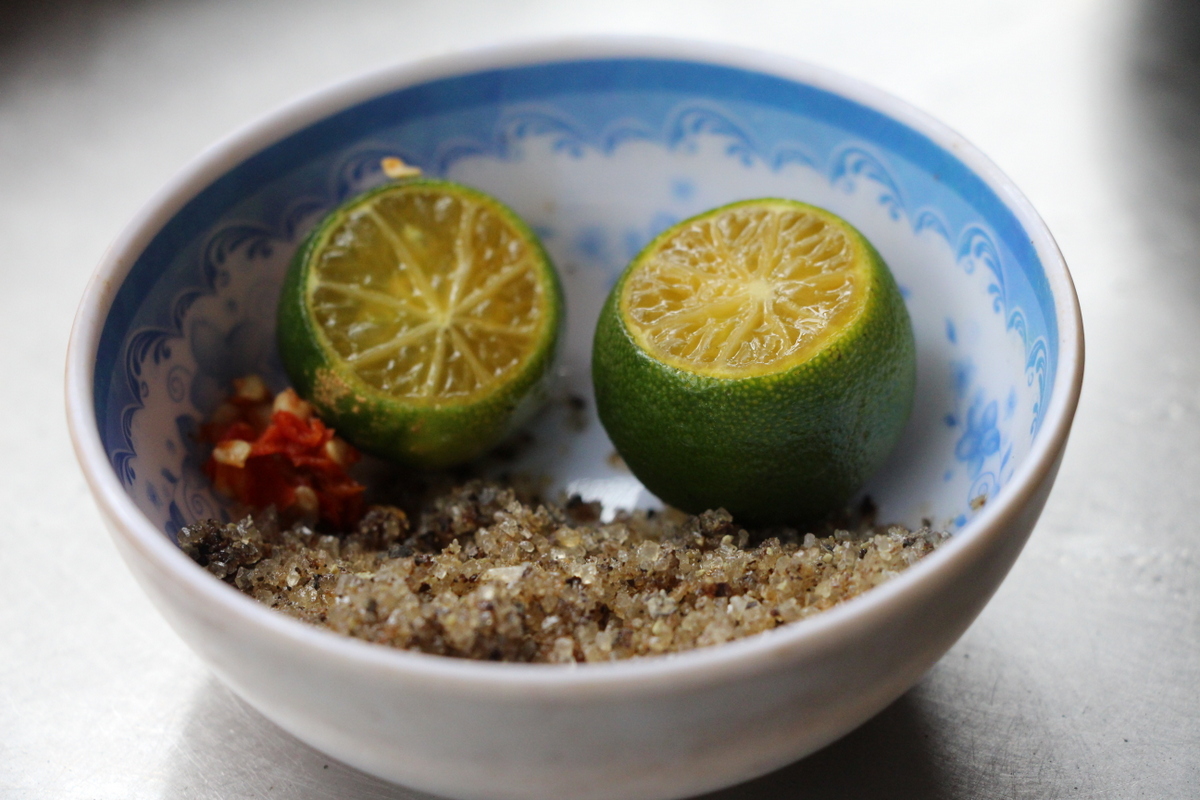 Hunting for street food Vietnam occupied the lion's share of our time in both Ho Chi Minh City and Hanoi, but we found the challenge fun and rewarding. Overall, Vietnamese food tastes fresh, healthy, and makes perhaps the best use of pork we've yet seen in Asia. I often found myself wishing I had more acid in the food I was eating, but overall the fare was among the best on our trip. On that note, we have even more Vietnamese food posts coming up!