For our final day in Kep, Andrew and I decided to rent a driver for the day to check out a local pepper farm, as well as the beach, a cave, and various sites through the local villages. One of the best things about Kep was the extremely low levels of tourism; most foreigners (especially backpackers) are drawn to the nearby beach party-town of Sihanoukville, which we decided to forgo for a less noisy and crowded seaside experience. This wise decision afforded us a full day with no crowds, gorgeous weather, low prices, and the elusive "authentic" feeling of being in a place that feels shaped more by the Cambodians that live there than the foreigners who pass through. The day was perhaps our most enjoyable in all of Cambodia as we got to sit back, relax, and enjoy rural Cambodia in the cushioned back of our own chariot.
Sothy's Pepper Farm
Kep is located right next to the French colonial town of Kampot, known worldwide for its production of high-quality pepper corns due to mineral rich soil and rainy weather. Kampot pepper is so highly regarded, in fact, that it was the first Cambodia product to receive Protected Geographical Indication certification and is thought to be the finest pepper in the world. We visited Sothy's Organic Pepper Farm first thing in the morning to see how peppercorns are grown and procure a bag for ourselves. The video below explains how green, red, black, and white peppercorns are made.
Salt Fields
Aside from peppercorns, Kep's economy is also supported by a large salt industry, which makes sense given its seaside location. The large salt fields sit for a few days for the water to evaporate and then workers come by to pick up the salt crystals.
Driving Through Villages
Vising rural areas has been one of the most fun activities on our trip. We had the privilege of doing this several times in India, briefly in Thailand, and finally also in Cambodia. Rural areas are enjoyable because they offer such great opportunities for photography; there are usually bright colors, subjects are easier to contrast with their settings (e.g. a person against a field vs a person against a line of moving cars), there are more opportunities to use natural lighting, and photographs tend to be more intimate feeling because you catch people in their home areas rather than roads, shopping centers, or places of employment.
Best of all, however, is that people in rural areas tend to be really excited to see Andrew and I passing through, which means kids run up to oogle at us and everyone you pass wants to smile and say hello. It feels a bit like being the star of your own parade and because foreigners more rarely pass through these types of areas, it gives us the chance to be as interesting and entertaining to the villagers as we are to them.
Above: Traditional Cambodian houses in rural areas have the living quarters on top and dining/communal spaces downstairs on the ground level. This is helpful in monsoon season to avoid flooded homes.
Above: Women in rural Cambodia and Vietnam commonly wear brightly colored pajamas as day-wear.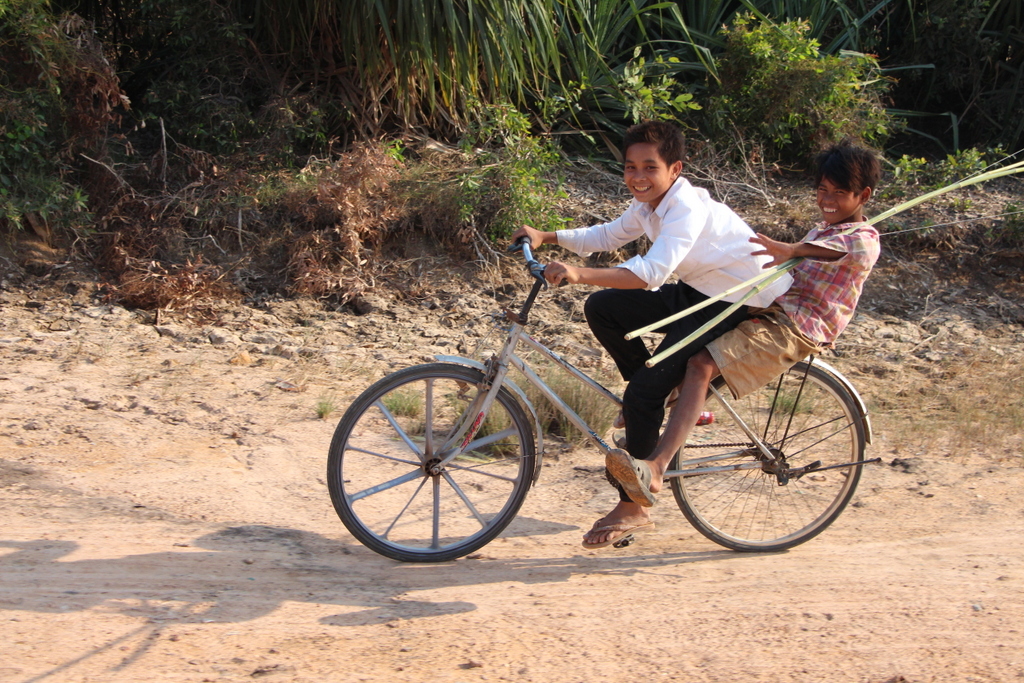 Angkaul Beach
Our final stop of the day was Angkaul Beach. We had the entire place to ourselves for almost the whole afternoon. Rather than dabble in tired language about how beautiful the beach was and how clear the water, I'll let the photos do the talking.
One final thing I'll say as an avid consumer of travel guides and backpacker blogs is that everyone's always writing about finding places that are "untouched," truly "off the beaten path" or "hidden gems." Usually the commentary is about how a place used to be "mostly undiscovered" but is now falling prey to the "tourist hoardes." There's a lot of obvious things to say in response to this sort of writing, like how the quest for the "authentic" is inherently flawed and it depends on how hard you look. Instead, I'll focus on this: it's easy when traveling to fall prey to the desire to see the most famous sites and biggest cities, but time and again my favorite travel experiences are in more remote areas, often when Andrew and I choose to forgo famous locations for something second-tier or a bit harder to get to. Visiting Angkaul Beach required taking a local bus over 3 hours to get to Kep, some calling around and negotiating for a driver in broken English, and relying on local advice for a romantic afternoon spot. The result was an almost indescribable luxury, and we had it all to ourselves for one glistening, sunny afternoon.