Above: One of the many cricket games we saw at a park just outside Mumbai University
New Years brought us to Mumbai to spend a few days with our dear friend Akshaya, who was visiting his parents over the holidays. It had been over a month since John and Kim left us in Thailand, and we were super excited for the chance to meet up with another friend on the road.
Rendesvous
We met up for dinner the first night, after Akshaya's mother Seema (who was kindly hosting us) took us for a shopping spree so that I could buy some more India-appropriate clothes than my short dresses from southeast Asia. A common form of Indian casual wear for women is called a kurtha, a long, loose shirt often worn with pants or leggings and a draped scarf. I bought several and you'll get to see my new ensembles in the blog posts over the next few weeks.
After dinner on our first day in Mumbai, we went walking with Akshaya and Seema around Seema's old neighborhood, an area with heavy Portuguese influence that was still decked out for Christmas. We walked around admiring the twinkling lights, hanging stars, and architecture in the same way we would back in the USA over the holidays. One of Seema's former neighbors even invited us in for a tour of his new house. It was a great evening to stretch our legs and bust out the camera.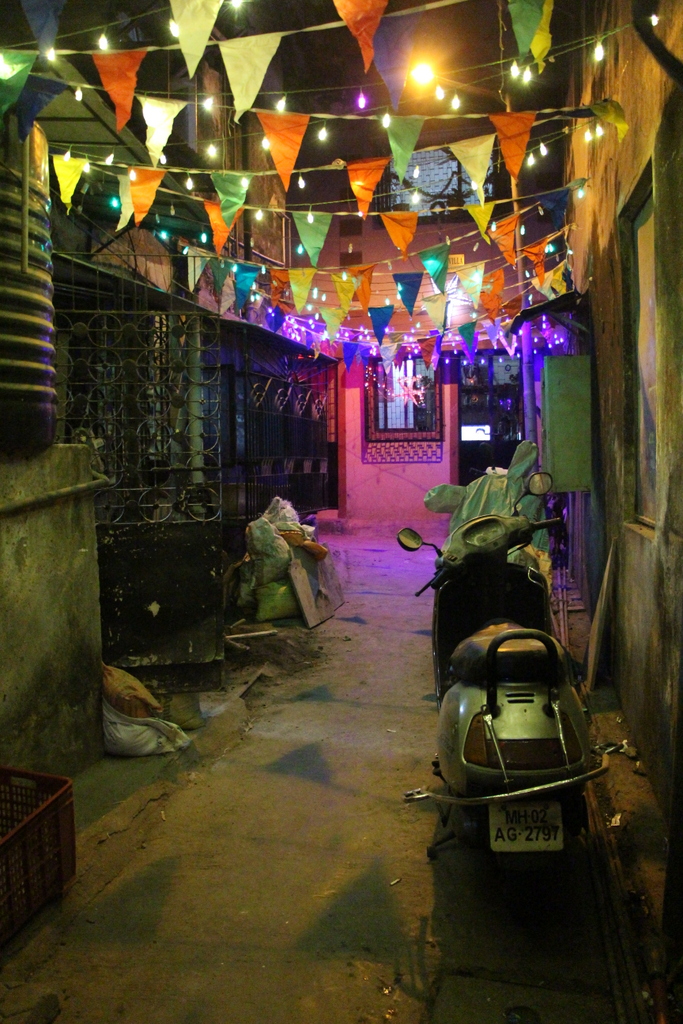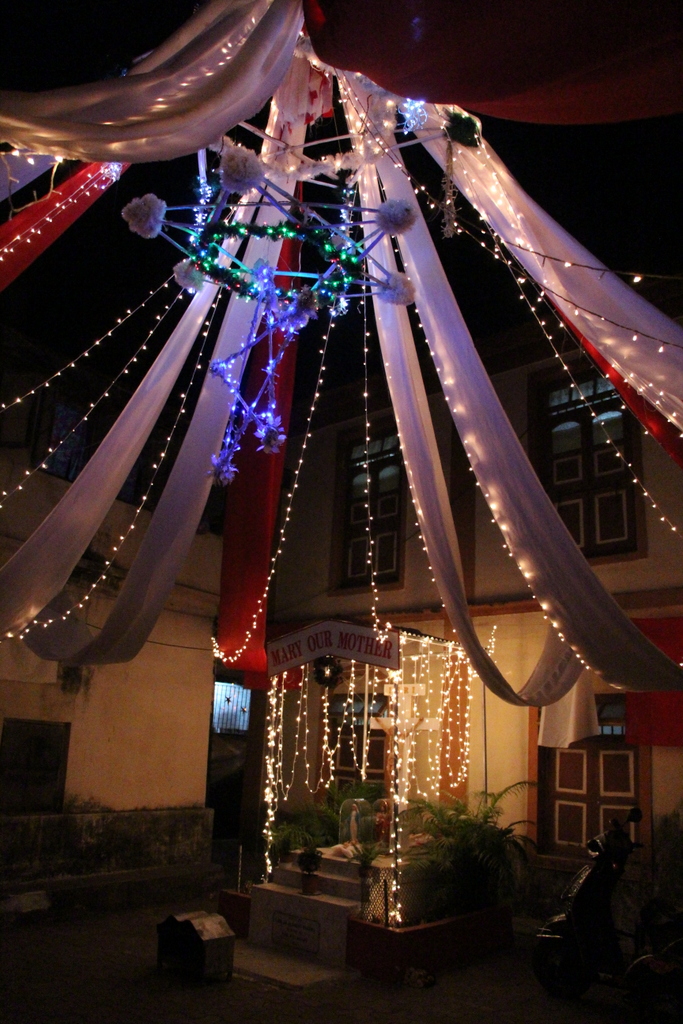 Food! (Are You Surprised? We thought not.)
One of our favorite things to do with Akshaya in Boston is cook and talk incessantly about our mutual love for Indian food, so needless to say Akshaya spoiled us with a wide introduction to local cuisine while we were in town. I'll save the street food for a future post (stay tuned!) but share some of our restaurant favorites here.
On our third day, we went to a Gujarati restaurant for thalis. Thalis, as our frequent readers now know well, are large Indian set meals that come with a wide variety of dishes. Gujarat is a state in India just north of Mumbai where it is common to eat dessert alongside the main meal. We stuffed ourselves on this afternoon out and our dishes were refilled usually before we asked. My favorite was the ladyfingers, which is what Indians usually call okra. I pity the poor woman the dish was named after, or perhaps it's just reflective of what the Indians thought of the British!
Another memorable meal was eating at the posh Punjabi Grill with Akshaya and his dad Viji, who looks dashingly like Hector Elizondo. We went one a sunny afternoon after visiting a museum. Punjab is a state in northern India known for its tandoori cuisine, which is food cooked in a gigantic clay oven that functions much like a grill. Andrew and I shared a sumptuous dish of slow cooked lamb, but the best dish of the meal was the house (vegan) dhal, easily the best dhal I've ever had. How those kitchen wizards managed to transform the humble lentil into something so rich, comforting, and complex I have no idea but I'll have to experiment and find out when I'm home. The meal was finished off with a shot of a green, smoothie like blend that tasted of fennel, a refreshing play on the common practice in Indian restaurants of ending a meal with candied fennel seeds.
Andrew's Major Award
India is definitely the most conservative country we've visited so far. Outside the United States, very few people wear shorts, but this is especially true in India. This put Andrew in a bind of having to wear his sole pair of pants every day until the point that we couldn't bear not to wash them any more and we have to accept the social ungrace of having him wear shorts for a day. (For the record, I tried taking him shopping for another pair in New Delhi but he hates shopping and I was unsuccessful. To be fair, we never did exactly find any pants that properly fit him.) This state of dirtiness outweighing embarrassment culminated on New Years Eve, when we went out with an impeccably dressed Akshaya, Viji, and Viji's girlfriend and girlfriend's daughter for a night on the town.
Our first stop of the night was a local microbrewery called the Barking Deer. It was a lot like a sports bar with a hip, wealthy crowd of Mumbai residents noshing on bar fare and singing loudly along to Madonna's La Isla Bonita blasting from the speakers (oh wait, that last part may have been just me....) At some point a random dude comes to chat up Andrew, which happens a few times each day when someone is curious to meet a foreigner. Anyway, we'd been sitting and chatting for about an hour when the DJ comes onto the speaker, welcomes us for the evening, and says that there will be door prizes for the evening. "We already have a winner this evening folks! The first prize for tonight goes to the person who best embodies the notion of 'come as you are.' Will ANDREW, the only person rocking shorts this evening, please step forward and receive our prize!" And that's how he's acquired his second beer-themed shirt on our trip! (The first we bought at Great Leap Microbrewery in Beijing).
After the brewery, we spent midnight at a delightful Italian restaurant where a little kid in light up glasses in the booth behind us had a lot of fun popping his head over the bench and pretending to scare me. When we finished, Viji drove us back to Seema's apartment where we were staying and Andrew and I joined Seema and a friend for a brief 1am dance party before falling asleep. It was a joy to be able to spend the evening with friends even while halfway across the world.