For the Christmas holiday, Kelsi and I decided to spend a week in the Nilgiri Mountains of Tamil Nadu for a luxury cooking homestay with an Indian family. Indian food is one of our favorite type of cuisine and we had been looking forward to the (vegetarian) cooking lessons for weeks. We were hosted by a family with three generations -- grandma and grandpa, son and his wife, and the little almost-two-year-old grandson -- but when it came time to cook, it was grandma Renu with us in the kitchen.
North and South
India is a big country, about 1/3 the size of the United States. The nation is very diverse geographically and that diversity is reflected in its food. Most of the Indian food we see in restaurants in the United States is from northern India, including foods made in a tandoori, such as tandoori chicken and naan. Southern India is a much more temperate and at times even tropical feeling climate, and its cuisine features much more coconut and fresh vegetables. Curry leaves are an item almost exclusive to south Indian food. If you've had dosas, uttapams, or appams (called hoppers in Sri Lanka), you've had south Indian food.
We came to India mostly loving north Indian food, as it was the type of India food we knew best from the USA. Traveling around Kerala, however, we had quickly developed a taste for south Indian food as well. We were fortunate that while our homestay was in the south, the host family is originally from the north, so our cooking lessons would be a good mix of the two.
To Market
Our hosts took us into the own of Ooty to visit the local market. Ravi, the grandfather of the family, walked with us through the market as we discussed various fruits and vegetables and how they were used in India compared to the United States. In both this and other markets we visited in south India, merchantmen (and the handful of merchantwomen) took great pride their produce. Displays were carefully arranged and more than one vendor offered us tastes of vegetables that we had never seen, even when we made it clear that we were not going to be making a purchase. We were also pleasantly surprised by the laid back and friendly attitudes of most of the vendors, which would be quite different from what we would see in north India a few weeks later.
One section of the market was devoted to flowers. Fresh, bright flowers are important in Hinduism and it is common to see flower vendors outside of Hindu temples. (There was in fact a Hindu temple immediately outside the market.) Worshipers will take strings of flowers inside the temple and leave them as part of their offering. When one vendor caught Kelsi admiring a string of jasmine flowers, he generously cut it down and gave it to her at no cost. We also walked past a Muslim-run shop that exclusively sold items for Hindu worship practices - a great business idea as he's probably open on Hindu holidays!
Most produce was sold by weight. Some vendors also offer a pre-weighed plate of food for a set price of 10 rupees. These plates of produce are designed as a face saving mechanism for poorer partrons of the market. For shoppers who have a limited budget, buying these pre-weighed plates of food spare them the need of asking the price of each individual item and having them weighed carefully to ensure that they can afford their purchase. Kelsi and I found this an elegant and respectful system.
Cooking Time
Back at the house, we got down to business and began cooking. We made something like 12 or 15 dishes over four days. For those of you that joke, "Wow, you guys need to make us an Indian dinner when you get back!" be careful what you wish for -- we would totally love to do that. (And the same with Thai food!) Here are here some of our favorite dishes that we made.
Top - Khatta Meetha Kadoo (Sweet and Sour Pumpkin)
Right - Geera Rice (Carrot Rice)
Left - Coconut Ladoos
We first encountered heavy pumpkin use in the Philippines where we enjoyed various curries featuring the gourd. In America, 90% of my pumpkin consumption is in pie (the other 10% soup), but having tasted pumpkin as a main dish in the Philippines and now India has made me very excited to try to use it more.
The ladoos seen here is essentially a ball of fresh ground coconut and sweetened condensed milk with an almond and pecan on top. It is a simple yet delicious dessert. I grew up thinking I didn't like coconut. I realize now that is because all the coconut I had was dried. The fresh fruit is much tastier.
Top Left - Aloo Gobi (Stove Top Potato Cauliflower Dish)
Top Center - Raita (Cucumber Yogurt)
Top Right - Dhal (Lentils)
Bottom Right - Banana Bajis (Fried Banana Fritters)
Bottom Left - Coconut Mint Chutney
Cauliflower is admittedly a vegetable that Kelsi and I have struggled to love. Not so in Indian cuisine. Made properly on the stove top, aloo gobi gives cauliflower a spiced, full flavor with a small pleasant crunch. I think we'll be eating much more if it when we get back.
Raita is basically yogurt with cucumber and a few other additions, including tomato and sometimes mint. Yogurt and yogurt based dishes are common in Indian cuisine and are great for neutralizing some of the spiciness of the other dishes.
Dhal is perhaps the most staple of Indian dishes besides rice. A lentil dish is served with almost every meal and is poured directly over rice.
Chutneys are added as condiments to other dishes and often add a slightly sweet flavor to the plate. Fresh coconut chutney, a south Indian creation, is one of the best tasting condiments we've ever had.
Top - Poori
Right - Khatta Meetha Kadoo (Sweet and Sour Pumpkin) -- so good we had it twice!
Left - Channa/Chole Masala (Stove Top Chickpeas)
There are a lot of flat breads in India cuisine - naan, chapatis, roti, paratas... here we have pooris. Pooris are fun to make because they puff up when fried. Indian food is usually eaten without utensils and using your hands. Breads like pooris are used to grab food when eating.
Channa and chole are different words for chickpeas depending on the part of India you are in. This is a dish that is a staple at many India restaurants in the United States. We've found that there are two types of chickpeas in India. In addition to the variety we are used to back home, there is another one that is slightly smaller, a dark brown/red color on the outside, and a bit firmer and hardier. They also have a little bit of a nutty taste to them. We like the red chickpea quite a lot. We've made this dish three or four different ways at home, but the one we made at the homestay was far better than any we had made previously, so perhaps with this recipe we have finally cracked how to make a good channa masala at home.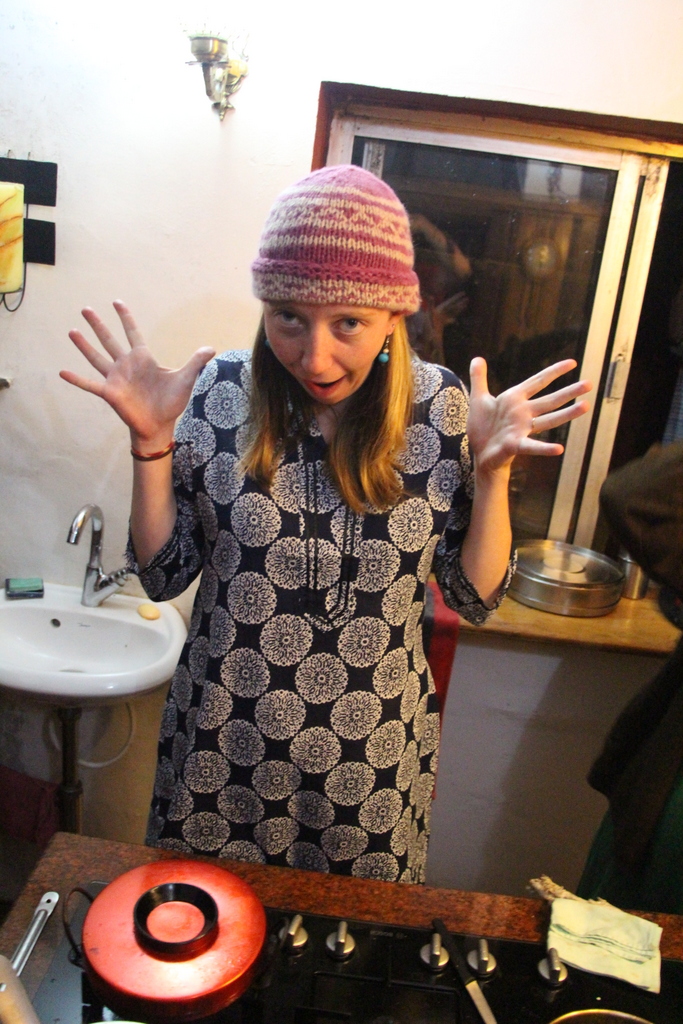 Appams, or hoppers, can be eaten anytime of day but are often eaten with an egg in the center for breakfast. Made from rice and coconut batter, the edges are crispy while the center is spongy with a sort-of-sourdough taste. They're an amazing breakfast food. When you cook an egg in the middle, it is delicious to break off the crispy edges and dip them into a warm, runny yolk. Kelsi first had appam in Sri Lanka several years back and specially requested that we learn to make them in India.
Left - Dhal (Lentils)
Bottom - Utthapam
Uttapams have become Kelsi's favorite Indian food. Made from rice and lentil flour, the spongy flat breads are topped with... well, anything you want really. Traditionally they are topped with tomato, onion, and mint.
In the video below Kelsi tries her hand at making appams and uttapams. You will hear the almost-two-year-old giving Kelsi some encouragement as she cooks.
Like in Alleppey, we had the chance to have a banana leaf thali, a variety of different south Indian foods served on a banana leaf for a plate. Now that we've sampled thalis from all over India, the jury is in - south Indian is the best (and we've got the recipes!)
Christmas came while we were at the homestay. Our hosts knew we were a bit homesick on the holiday and made sure to make the evening dinner special with decorations and candles.
We've now had cooking classes in both Thai and Indian food. We hope to get a class in Vietnamese food before we head to South America in March!