One of the reasons that George Town so quickly won the designation of "our favorite city" was the abundance of street art all over town. Check out some of our favorites while learning more about George Town's history in this post.
Heritage Art
George Town has chosen to showcase its history in a 52 piece sculpture series, with installations scattered all over the city sharing stories about food, commerce, culture, and religion. The pieces are whimsical, informative, and designed for long life in a tropical weather environment. These are a few of our favorites:
Nasi Kandar originated from Tamil Muslim hawking home cooked curry dishes from containers slung on both ends of a kandar (a wooden stick).
"Tok tok me is so called because hawkers would sound a 'tok tok' to signal their presence."
"While its royal English name sounds very grand, it's also known as 'Gedung Ringput' or grass godonn, with bullock carts being parked along this wide street." "Bad hay day here. The grass is greener on the other side."
"The birthplace of Ahmed Rashid Talu, the first to write an original Malay novel with local setting and characters."
"Sook Chuay Lane was a distribution center for market produce. Many itinerant hawkers took advantage of the crowd by displaying their foods here. One of the foods sold here is Ting Ting Thong, a rock candy. A hardened mixture of sugar, seeds, and nuts loved by kids. It has to be chiseled and hammered to break into smaller pieces."
"May I borrow your high heels?" "The counter of a pawn shop is typically higher for security."
"Chiulia Street is one of the main streets named after Captain Frances Light. Today it is known as 'Backpackers Main Street.'"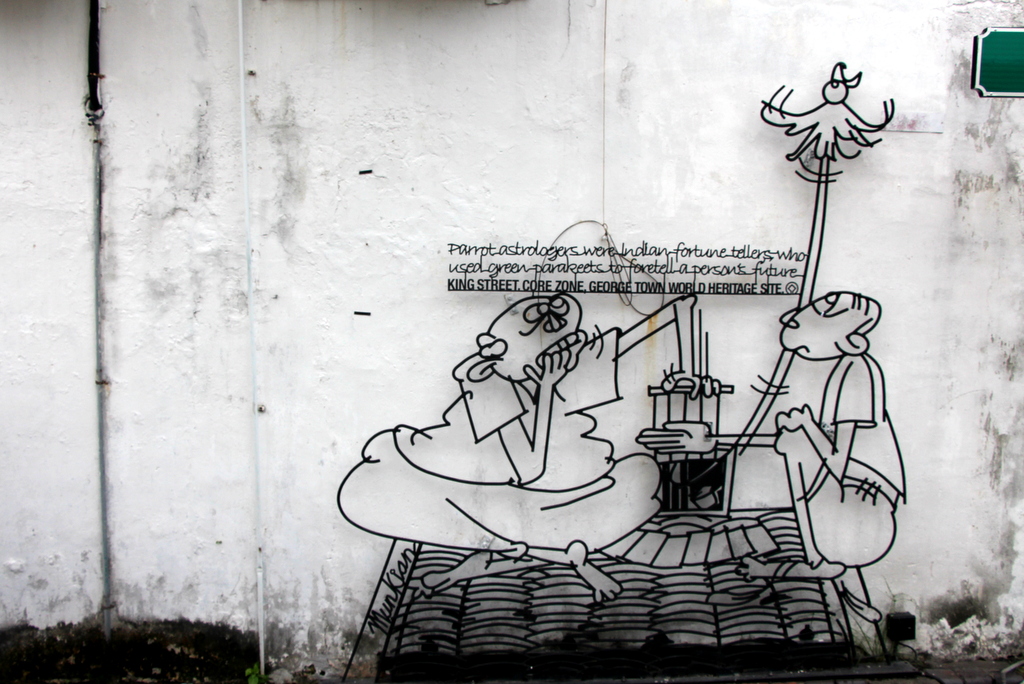 "Parrot astrologers were Indian fortune tellers who used green parakeets to fortell a person's future."
"Also called 'toddy' or 'palm wine,' 'tuak' is an alcoholic beverage made from underdeveloped flower of coconut palm. The collecting and market for tuak was entirely an Indian affair with the majority of its drinkers being Indian laborers."
"Roti Bengali comes from the word 'Pengali' (shareholders in Tamil.)"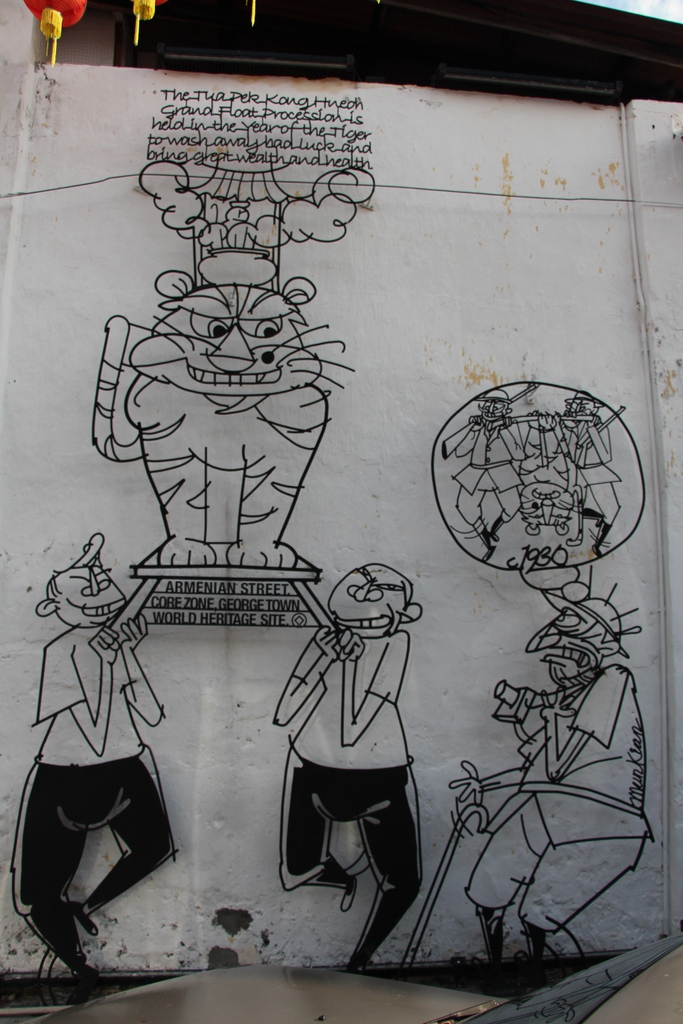 "The Tua Pek Kong Hueoh Grand Float Procession is held in the Year of the Tiger to wash away bad luck and to bring great wealth and health."
"The hand pulled rickshaw was the most popular form of transportation in early Penang."
"Not only were hapless cows bred and slaughtered here, but you could also smell the fish hung out to dry."
"Up until 1909, the police doubled as fire fighters here."
"Yeoh Kongsi was established in 1836 to look after the welfare of the newly arrived Yeoh clansmen."
Paintings
George Town is also well known for its playful, exuberant street murals, many of which were created by Lithuanian artist Ernest Zacharevic in 2012. One of our favorite activities in George Town was wandering through the alleyways to stumble upon new murals to photograph.
Overall, George Town's public art displays are incredibly well curated, and show how drastically a strong public art council (one of the first in the world!) can contribute to the development of tourism and celebrate a city's diversity.