After almost a month in Thailand, we made our first stop in Malaysia in George Town. Situated on the island of Penang, just across the Thai boarder on northwest Malaysian coast, most of the city is a UNESCO World Heritage site. We came for five days and stayed for ten, making George Town our favorite city on the trip so far.
George Town
George Town's heritage of British colonization, immigration from China and India, and the Islamification of the native Malay communities have made for a mishmosh of architecture for homes, religious buildings, and government offices. There's a Chinatown, a Little India, a Colonial District, and a very pretty backpacker's street. Due to most of the oldest parts of the city being a UNESCO world heritage site, there has been concerted effort not only for the historic preservation of the city, but also to share the city with the many visitors through public signs, tours, maps, and long covered sidewalks. Unlike many other places we've visited on our trip, the tourism industry and attractions, while certainly planned, felt much more authentic - street food centers, old home tours, and public art walking routes instead of McDonalds, elephant rides, and gaudy "cultural shows."
Overall, it's got a lot of what we like about Somerville with enclaves of foreign culture, an obsession with food, hipster coffee shops, cruiser bike rentals, street art, a relaxed vibe and walkable neighborhoods, but does them more successfully than we've ever seen.
Row Houses
George Town's row houses are hundreds of years old, built 15th through the 17th centuries. Many were originally built by the inter-mixed community that resulted from early marriages between Chinese men and Malaysian women is known as the "Baba Nyonyas", where baba is the word for man and nyonya for women, and they have developed their own strong cultural traditions and group identity throughout Malaysia. Many of the row houses are lived in by the same family, while others have become art galleries or boutique B&Bs.
Religious Centers
With Hinduism (Indian), Islam (Malay), Confucianism (Chinese), and Christian (British, Portuguese) influences, there are beautifully decorated religious buildings all over the city.
Clan Jetties
In the 19th century, many of the Chinese migrants who arrived in George Town worked on the docks, loaded and unloading cargo from the large number of merchant ships who made port in the city. With land for housing scarce, these migrants began building their homes on the docks themselves. Today, these homes on the docks have grown into several small villages called jetties, entirely built on stilts over the water. Each jetty is named after the Chinese clans that settled there (Weld, Tan, Chew, Lim) and whose modern day grand children still live in the houses over the water. With the jetties included in the UNESCO World Heritage area, they are protected spaces and will not be subject to future development and will remain in the hands of the families that live there.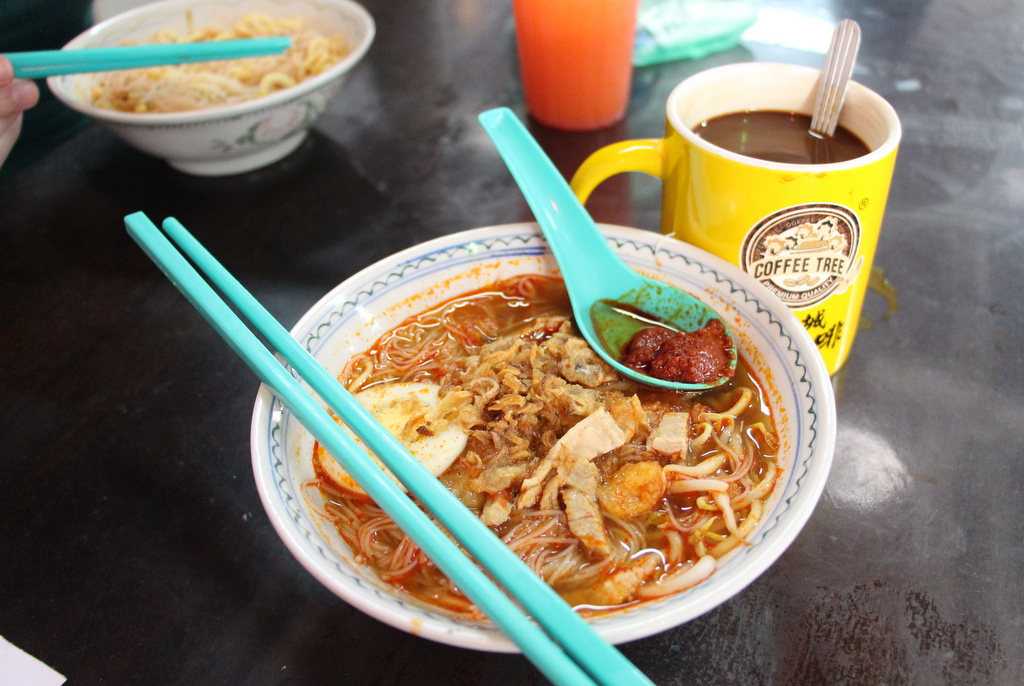 WELL OK THEN WE WILL NOT ROLL THE GRANITE BALL IN THE LION'S MOUTH! So we did it at another temple anyway. Question is, how did they get the ball in there in the first place?