Through our travels in Japan and China, we have always taken the local subway and bus. People in the Philippines, however, are much more likely to get around in jeepneys and trikes.
Jeepneys
At the close of WWII, the United States sold off many of the jeeps they had brought to the Philippines. With public transit infrastructure in Manila and other cities decimated by the war, some enterprising business people purchased a low cost American jeep, added some extra seats and roof, and created what would become the backbone of Manila's public transportation infrastructure -- the jeepney. Jeepneys would run around town, shuttling people for a small fee. The government saw this enterprise as an opportunity replace some of the lost transit infrastructure and regulated the burgeoning jeepney industry to require that drivers had licenses, ran set routes, and charged set rates. Jeepney owners, to set themselves apart, painted their jeepneys in colorful designs.
Given this unique history, jeepneys are unique to the Philippines and you won't find anything quite like it in other countries.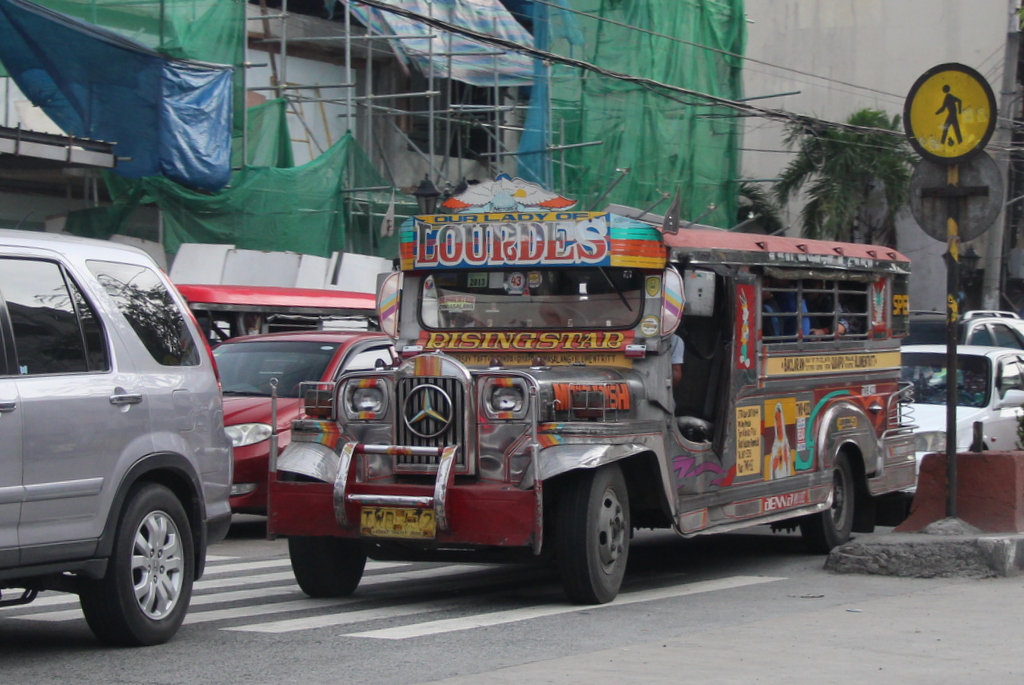 Today Manila has a light rail system and public bus network, but jeepneys still fill a role, replacing some service that would be provided by public buses in other cities. If you look closely at the jeepneys, you'll see that they list their route, their owner's license number, and the jeepney ID number on the outside of the cabin. Modern jeepneys were manufactured for their current use and don't look quite like a modified jeep like the original jeepneys did.
The back of a jeepney serves as the entry and exit for passengers and has no door. The interior cabin is two long benches that face one another. Fares are typically something around 6-9 pesos (less than $0.25).
I have always felt privileged that Kelsi and I have been able to save and travel. Our day in Manila, however, felt a little more privileged than most. We had one day before our boat trip to buy supplies and we had to cross the city several times to get all that we needed. It was a hot day and we could have learned the jeepney networks and traveled at 8 pesos a ride and done all our shopping, but taxis are so cheap for us at about $4.50 a trip, we passed on jeepney rides and let a taxi driver take us directly to our destination as we sat in an air conditioned cab. Manila may have the worst traffic I have seen in any city (including Boston, New York, Barcelona, Tokyo, Beijing, and others) and spending 80 minutes in a climate controlled taxi that went directly to our destination was much superior to sitting in the crowded, open air jeepney while we worried about whether we were on the right route.
Trikes
Jeepneys aren't often seen in the small island towns of the Philippines. We visited the small towns of El Nido and Coron where the trike was the only transportation in town.
Painted with colorful designs and licensed as a jeepney, trikes fill the role of bus system and taxi. The trikes are literally a motorcycle with a third wheel and cabin bolted on the side. Depending on the town and the distance covered, a ride could be 10 to 50 pesos.
While jeepneys are unique to the Philippines, trikes look like and function similar to tuk-tuks that you find in countries around the world. Regardless of that fact, they are an efficient and cheap way to get around.