Our visit to Chongqing (pronounced "Chong-tching") put us in a different part of the city than we normally visit. Most hostels are situated near tourist attractions, shopping areas, or a beautiful view. Our hostel in Chongqing, while easily accessible by public transit and overlooking the muddy Yangtze River, was in a wholesaling commercial district. Venturing from and returning to our hostel allowed us to see a part of daily life in Chongqing we probably wouldn't have come across otherwise.
The Bang-Bang Men of Chongqing
The Jialing and Yangtze Rivers flow through the heart of Chongqing. On all banks of the river are buildings perched on massive hills that rise from the river. In what appears to be natural city growth without strong central planning, curvy and winding roads go up and down the steep grades near the river and incredibly long pedestrian steps are cut into the side of the hill at random intervals.
The wholesale district we were in was for shoes and clothes. Large trucks and boats would load and unload at river level, but the products need to get to shops (wholesale and commercial) up the hills in Chongqing. The solution? Porters. Or as they are called in Chongqing, bang-bang men, a term derived from their yell on their street, "bang-bang," soliciting business from anyone who needs something carried.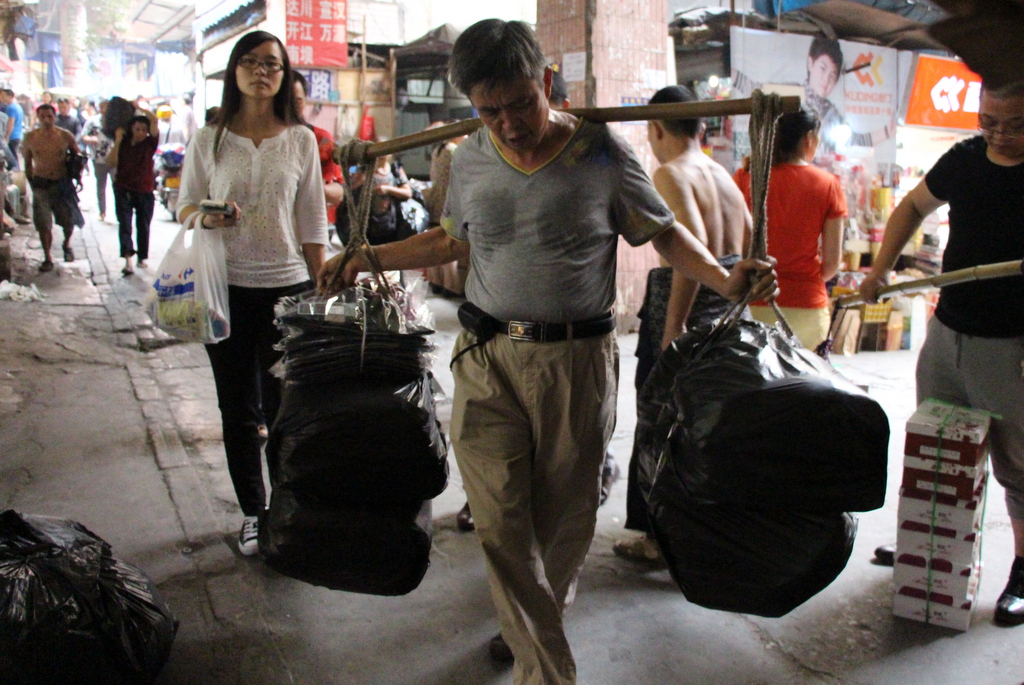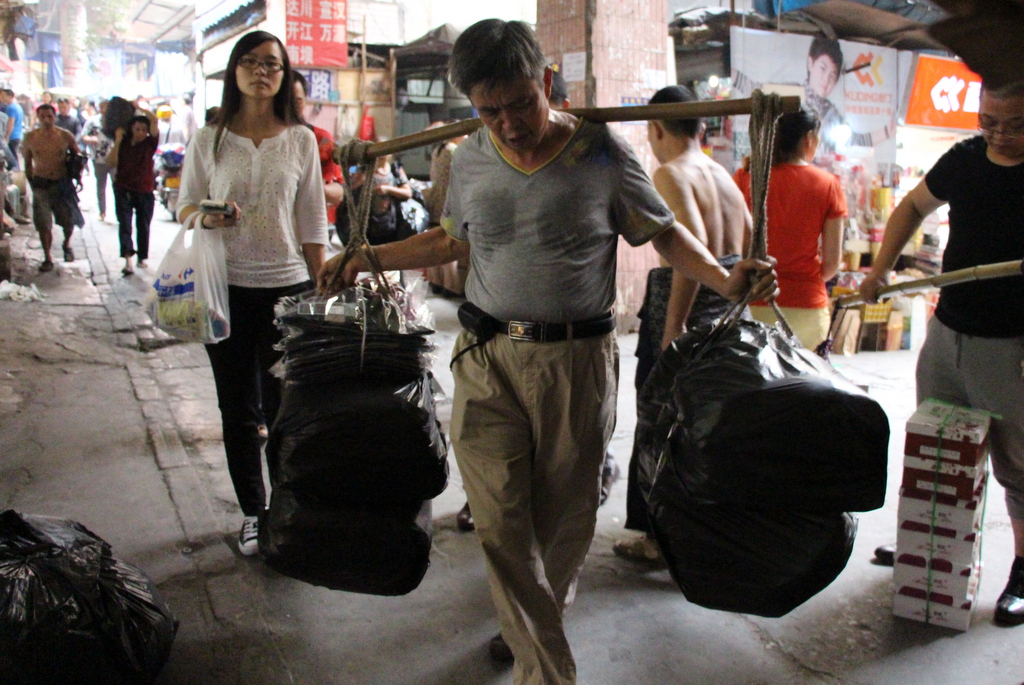 Locals will hire bang-bang men to carry goods for them through the hilly terrain. In many cities, the work of the bang-bang men has been taken over by other technologies, but Chongqing is too hilly for bicycles and taxis are too expensive for most locals to hire to carry goods and so a market for bang-bang men still exists.
Today most bang-bang men come from the rural areas surrounding Chongqing and often send most of their earnings back to their family. Thousands of them swarm through the streets, carrying goods on their back or balanced on a bamboo pole perched like a yoke upon their shoulders. For their labor, bang-bang men usually make less than $1 for each load.
It was incredible to see these men, many of them middle aged or older, carrying loads of goods up and down flight after flight of steps. I don't think these photos can do justice to the amount of effort they gave. I was in awe of the work they were doing in the muggy and hot climate.
Cotton Candy in the Old Houses
While we stayed in the wholesale district, we ventured out to explore other parts of the city. The Chiqikou ancient town features old houses from the Ming and Qing dynasties (as early as the late 1300s). Often with interior courtyards and built on narrow streets, many homes have been repaired and are used for tours or (more commonly) cafes and small shops. We enjoyed tea overlooking the streets when we noticed some people with some particularly spectacular cotton candy.
After searching, we found the source.
In a street full of tons of vendors selling various versions of the same item, we only saw one cotton candy artist. (The awesomeness of creations could only be described as cotton candy art.) At a price of ¥10, we couldn't help ourselves.